February 15, 2013
Two Viking relay teams break school records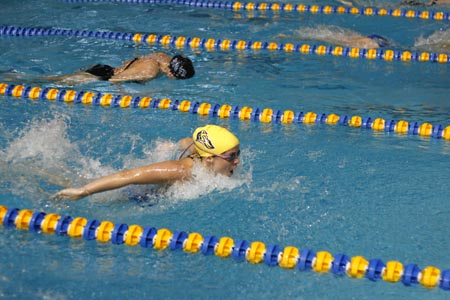 Senior Emma Regnier helped the Viking 200 medley relay team set a new school record Friday at the CCIW Championships in Wheaton, Illinois.
WHEATON, Ill.-Augustana's 200 medley and 800 freestyle relays each set school records Friday at the CCIW Championships. The 800 freestyle was third and the 200 medley took fourth to help the Vikings remain third in the team standings heading into the final day of competition Saturday.

Senior Molly Clennon (Benet Academy, Naperville, Ill.) and junior Hillary Ferguson (Waubonsie Valley HS, Naperville, Ill.) led off and swam anchor, respectively, on each of the record setting relays. Senior Alexandra Piper (Coal City HS, Coal City, Ill.) and freshman Emma Novak (Eden Prairie HS, Eden Prairie, Minn.) joined the pair on the 800 freestyle team, which finished in 8:02.21, bettering the previous mark of 8:03.77 set last year. In the 200 medley relay, it was sophomore Jamie Graf (Lincoln-Way Central, Downers Grove, Ill.) and senior Emma Regnier (Grayslake North HS, Lake Villa, Ill.) swimming the middle two legs as the Vikings finished in 1:50.53. That bettered the previous Augustana standard of 1:52.80, set in 2006.
Individually, four Vikings scored points in the 100 breaststroke. Graf was sixth in 1:08.99, one spot ahead of Regnier (1:10.41). Freshman Jordan Johnson (Appleton North HS, Appleton, Wis.) finished 13th in 1:16.14 and sophomore Mackenzie Corrie (Midland HS, Charleston, Ill.) was 16th in 1:18.35.
Regnier (1:00.79) garnered a ninth-place finish in the 100 butterfly. Novak and senior Emily Timmons (West Aurora HS, North Aurora, Ill.) took 10th and 11th in the 400 individual medley, finishing in 4:51.49 and 4:54.92, respectively. Clennon (1:57.67) and Ferguson (1:57.72) were 11th and 12th in the 200 freestyle and senior Hollyann Kabbe (Fenton HS, Bensenville, Ill.) and sophomore Laura Pemberton (Fremont HS, Fremont, Neb.) finished 14th and 5th in the 100 backstroke with respective times of 1:04.95 and 1:07.06.
Wheaton, with 724 points, holds a sizable lead in the team standings heading into Saturday. Carthage, with 570 points also leads the Vikings' total of 330. Illinois Wesleyan is a close fourth with 314, followed by Rose-Hulman (240), North Central (159) and Millikin (127).