Freistat endowment promotes 'just and stable world'
February  27, 2013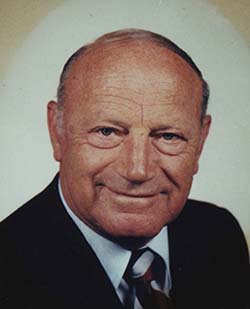 William Freistat
Related article
After graduating from Augustana with a degree in history and economics, William Freistat '40 attended the University of Illinois where he studied efforts made to promote world peace before the outbreak of WWII. In 1942, Freistat joined the Henry J. Kaiser organization at the Richmond, Calif., shipyards. After WWII ended, he transferred to the Kaiser-Frazer automobile operation and then to aerospace and electronics.
In 1951-52, Freistat was an advisor to the office of President Harry Truman. He then rejoined Kaiser and ultimately became CEO of Kaiser Aerospace Electronics Corporation until he retired in 1975.
Observing from within the changes in military technology brought about by nuclear weaponry, Freistat became convinced that world peace is necessary to world survival. This strengthened his resolve to make a tangible, enduring contribution to peace efforts as he made a bequest to Augustana to create the Freistat Endowment for International Peace in 1985 that ultimately became the William F. Freistat Center for Studies in World Peace.
The Freistat Center promotes peace studies together with the study of Africa, Asia, Europe and Latin America. Its generous grant programs, such as the one that funded Augustana seniors Ellen Lose and Rachel Lenke's research in Brazil, allows faculty and students "to investigate and produce significant scholarship on the conditions that contribute to (1) violence, (2) the cessation of violence and (3) the absence of violence (peace) as we seek to create a more just and stable world."
Dr. Heidi Storl, professor of philosophy, recently was appointed the William Freistat Chair for Studies in World Peace in recognition of her achievements at Augustana.
Dr. Storl's specializations include philosophy of mind, clinical ethics and German phenomenology. She is the past chair of the humanities division at Augustana, and serves as the director of the college's Texas Medical Center Summer Research Internship Program.
Under the guidance of Dr. James Winship and Dr. Van Symons — the first Freistat professors who have since retired — the Freistat endowment has supported multi-disciplinary involvement in peace studies at Augustana through faculty and student research, seminars, lectures and other programs aimed at increasing the global awareness and experiences of students.
"Mr. Freistat's endowment gift is truly significant in regards to the large number of faculty and students who have benefited from the fund for nearly three decades," said Lynn Jackson, vice president of advancement. "He set out to change the world for the better, and through Augustana he has."