Faculty news
February  27, 2013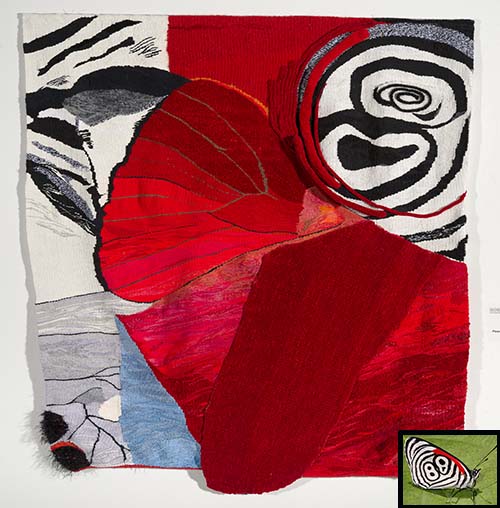 Art Professor Rowen Schussheim-Anderson was inspired by the 89 butterfly to create this tapestry, Crimson Prelude (52 inches x 48 inches). Inset: www.learnaboutbutterflies.com
Two of Professor Rowen Schussheim-Anderson's tapestries, including Crimson Prelude (right), were juried into an international fiber art exhibition in China last November-December. From Lausanne To Beijing the 7th International Fiber Art Biennale featured more than 300 pieces of fiber artworks representing 37 countries. Schussheim-Anderson's inspiration for her work came from an experience she had with Augustana students during Latin America term in 2009. "I had the chance to spend time in the Peruvian rainforest, where I saw gorgeous butterflies bigger than hummingbirds and more abundant than mosquitos in Iowa," she said. "Crimson Prelude was inspired by a beautiful red, white and black 89 butterfly that rode next to me on a bus window for eight hours."
Dr. Lendol Calder (history) accepted an invitation to join a team of eight experts in history teaching to advise the graduate history program at the University of California, Berkeley, in a redesign of its Ph.D. program so that it will train historians to be effective teachers of history. Funded by the Teagle Foundation, the redesigned Ph.D. program will be the first of its kind in the country and a model for other graduate programs to follow.
Dr. Mike Egan and Dr. Randy Hengst (education), along with seniors Stephanie Kendzior, Michelle Hanson, Amanda Johnson and Kate Cannova, presented at the National Conference of Teachers of Mathematics 2012 Regional Conference and Exhibition. Their presentation highlighted the collaborative development process of their Number Sense app series (available on iTunes) as well as responses to these apps from their work with kindergarteners and teachers at Longfellow Liberal Arts School.
Dr. William Hammer (geology) received a grant of $190,374 from the National Science Foundation for his current research project titled "Continued Research on the Jurassic Vertebrate Fauna from the Beardmore Glacier Region of Antarctica." This is a continuing collaborative project with the Field Museum of Natural History in Chicago and Hammer's former student Dr. Nate Smith '03, who is a faculty member at Howard University in Washington, D.C. In addition to funding a full-time research assistant at Augustana, this grant includes support for two Augustana undergraduate summer interns, one working at the Field Museum and one in the paleontology research lab at the college.
Dr. Brian Katz (mathematics) wrote a book with Dr. Michael Starbird titled Distilling Ideas: An Introduction to Mathematics through Inquiry, which was accepted for publication by the Mathematics Association of America for its Textbook Series.
Dr. Peter Kivisto (sociology, anthropology and social welfare) has been involved in a research project on Iraqi refugees in two European cities — Helsinki and Rome — with University of Turku graduate student Vanja La Vecchia-Mikkola. He presented some of their findings at two conferences this past August, the first at the International Sociological Association's Forum in Buenos Aires and the second at the annual meeting of the American Sociological Association in Denver.
Dr. Ann Perreau (communication sciences and disorders) was selected as a 2012-2013 recipient of the American Speech-Language-Hearing Association's Advancing Academic–Research Career Award. She will receive $5,000 to implement her teaaching and research plan during the next two years. Her teaching plan includes comparing different methods of instruction in her audiology course to determine which is most effective for student learning, and developing hands-on exercises in anatomy courses to better engage students.
For a more complete list of Augustana faculty news, click here.