Advice from new mascot: be yourself
February  27, 2013
Last September, Augustana debuted its Viking mascot, who has been entertaining fans and intimidating the college's rivals ever since. After the unveiling, the campus community and the public were invited to submit suggestions for the Viking's name. A panel of Viking naming experts, including cheerleaders and athletics staff, convened and selected a name that also won the approval of the mascot, George Papandreou '13. At Homecoming, Gustav Mauler, a.k.a. Gus, was introduced. The name is a play on the name of famous composer Gustav Mahler.
Meet George Papandreou '13, a.k.a. Gus (Gustav Mauler)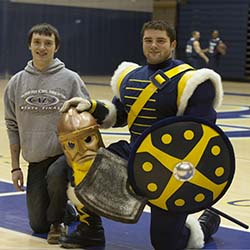 After he graduates in May, mascot George Papandreou '13 will "pass the helmet" to Mike Tortorelli '15.
Did you ever think you would be a college mascot?
Never did the thought even cross my mind. Graduating high school I figured I would play football for four years, so maybe I would body paint and be a super fan for basketball games. But I guess it was fortunate timing for me that when I decided to hang up the cleats, Augustana started planning to get the mascot costume.
Did anything in your life prepare you for this?
Well, two things maybe. I was a huge super fan in high school. My high school basketball team [Waukegan] won regionals three out of four years, sectionals two out of four years, and took third in state my senior year. So getting a good student section and dressing up for high school games and cheering was something I was used to. Once I hung up my football cleats here, I got my fraternity brothers involved in body painting for the football games. I knew the guys on the team would appreciate it.
How do you mentally get prepared to be the mascot?
I tell myself three things: Be ready to sweat a lot (as in dehydrated), be ready to not see clearly, and be ready to not talk. As much as I enjoy wearing the costume and supporting our teams, it's just hot. The suit and helmet trap all the heat. The blue lenses of the mask make it slightly difficult to see already, but once I start moving and condensation gets on the lenses, I pretty much just see shapes and blurs of people not within 5 feet. Watching football, basketball and volleyball matches is interesting because I am able to see the gist of what's happening but not the details. So I tell myself to be prepared to have fun but be hot for the next few hours, and I go do my thing.
What's the best part about being Augie's mascot?
The best part of being the mascot is making people smile. One kid chased me down every home game, and I loved it. He would jump to give me high fives. One time when the cheerleaders and I were throwing those little footballs out, I took one and ran right up to him and handed it to him, and he had the biggest smile that I have ever seen. There was also a time when I gave a hot dog to an older gentleman. He had the biggest smile on his face as well. Moments like that make the job fun regardless of how hot and sweaty I get.
A tip for your successor, Mike Tortorelli '15?
Let loose and have fun. You're wearing a giant costume so you already look goofy. Go ahead and dance and be yourself. That's the way I look at it, and I enjoy every second of it.