February 14, 2013
Clennon, Ferguson break school marks at CCIW meet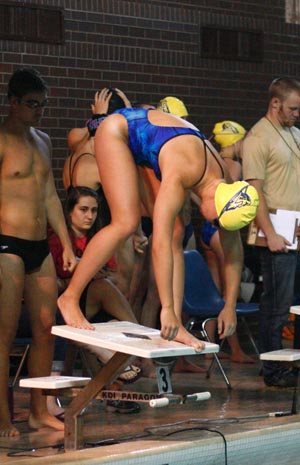 Hillary Ferguson's :24.02 in the CCIW 50 freestyle prelims Thursday broke a 23-year old school record. Ferguson finished fourth in the finals of that event in Wheaton, Illinois.
WHEATON, Ill.-Senior Molly Clennon (Benet Academy, Naperville, Ill.) and junior Hillary Ferguson (Waubonsie Valley, Naperville, Ill.) both set school records Thursday, helping Augustana to third place in the team standings after the first day of swimming at the CCIW Championships. Ferguson took down Julie Konchan's 23-year old 50 freestyle mark (:24.16) with a :24.02 in the preliminaries. Clennon finished the 500 freestyle in 5:16.45 to better Megan Lonergan's record of 5:17.94 set in 2009.

Ferguson took fourth place in the 50 freestyle finals with a time of :24.24. Senior Alexandra Piper (Coal City HS, Coal City, Ill.) was 16th in :25.87. Clennon's 500 freestyle time earned her an 11th-place finish.
Freshman Emma Novak (Eden Prairie HS, Eden Prairie, Minn.) finished 10th in the 200 individual medley, swimming a 2:16.27.
Piper, Clennon, Novak and Ferguson took fourth in the 200 freestyle relay (1:39.12) and the 400 medley relay team of senior Hollyann Kabbe (Fenton HS, Bensenville, Ill.), freshman Jordan Johnson (Appleton North HS, Appleton, Wis.) and juniors Danna Jensen (Dundee Crown HS, Algonquin, Ill.) at Catherine Pittman (Mahomet-Seymour HS, Mahomet, Ill.) finished sixth in 4:26.10.
Wheaton leads after the first day of swimming, with 326 points, followed by Carthage (254) and Augustana (190). Illinois Wesleyan (165) is fourth, with Rose-Hulman (148), North Central (73) and Millikin (47) sitting in spots five through seven.