February 14, 2013
Reppy, Holt set school records on CCIW Day 1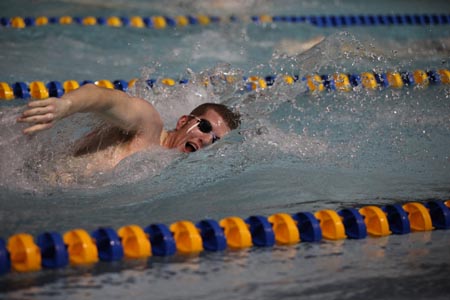 Junior Justin Reppy swam a school-record 4:35.27 Thursday to win the 500 freestyle on the first day of swimming at the CCIW Championships in Wheaton, Illinois.
WHEATON, Ill.-Junior Justin Reppy (Oswego HS, Oswego, Ill.) had quite a day at the CCIW Championships Thursday, twice breaking his own school record in the 500 freestyle, including a 4:35.27 clocking in the finals that earned him a conference title. Sophomore Aaron Holt (Mt. Vernon HS, Mt. Vernon, Ill.) also bettered one of his own school records with a :52.05 100 backstroke on the opening leg of the 400 medley relay. The Vikings are fourth in the team standings after the first day of swimming competition.

The previous 500 freestyle relay record was set by Reppy two years ago when he won the CCIW championship with a time of 4:40.40. He surpassed that with a 4:39.31 in today's preliminaries, only to best that mark by more than four seconds in the finals. In the 400 medley relay, Holt's opening 100 backstroke leg helped Augustana to a fourth-place finish in that event and beat his previous school record of :52.50. Reppy swam anchor with freshmen Felipe Hernandez (United Township HS, East Moline, Ill.) and David Sommers (Westlake HS Thousand Oaks, Calif.), handling the second and third legs, respectively.
Holt led off Augustana's fourth-place 200 freestyle relay as well, followed by senior Christopher Greaves (Morris HS, Morris, Ill.), sophomore Michael Duy (Marmion Academy, Aurora, Ill.) and junior Daniel Hinck (Harlem HS, Loves Park, Ill.). That unit finished in 1:27.03.
Three Vikings, besides Reppy scored in the 500 freestyle. Sommers finished sixth in 4:46.95. Duy was 10th in 4:45.23 and junior Austin Zarbuck (Urbana HS, Urbana, Ill.) took 14th in a time of 4:59.82.
In the 50 freestyle, Holt recorded a seventh-place finish with a :21.78 and Hinck was 13th in :22.36. Freshman Adam Bernardi (Boylan Catholic HS, Belvidere, Ill.) and Hernandez finished 13th and 14th, respectively, in the 200 individual medley. Bernardi swam a 2:01.16 and Hernandez a :2.01.33.
Host Wheaton sits atop the team standing after day one with 324 points. Rose-Hulman is next, at 266, followed by Carthage (181), Augustana (166), Illinois Wesleyan (95), North Central (69) and Millikin (53).