February 14, 2013
Vikings stay in top 20 in NCAA Division III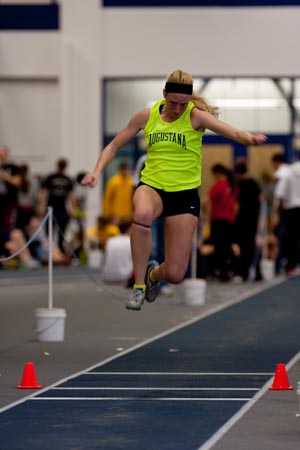 Astin Moravek has been the top long and triple jumper for the Vikings this winter. Currently, Augustana ranks 17th in NCAA Division III.
After seeing many solid performances at the most recent Grinnell Invitational, Augustana moves to 17th in the United States Track & Field and Cross Country Coaches Association poll. Although jumping to 123.96 points from last week's total of 122.53 points, the Vikings fell four spots. The Vikings have held a ranking in the top 20 throughout the entire indoor season.

Coming off a third place finish at the Grinnell Invitational which hosted 10 teams on February 9 in Grinnell, Iowa, Augustana looks to transcend its past success in the College Conference of Illinois & Wisconsin Indoor Championships.
Wisconsin-LaCrosse leads the NCAA Division III poll, which ranks the top two performances by each team in every event, with 151.42 points. The College Conference of Illinois & Wisconsin continues to be very well represented with four teams in the top 20. North Central ranks third, Illinois Wesleyan ninth, Carthage 13th and Augustana 17th.
The Vikings started the indoor season off right with a first place finish at the Sol Butler Invitational on January 12 in Dubuque, Iowa. They finished third at the Olivet Nazarene Invitational on January 26 and then went on to place fifth at the hotly contested Warhawk Invitational in Whitewater, Wisconsin. A third place finish at the Grinnell Invitational caps off their season thus far.
The Vikings will compete in a triangular meet later tonight at home against St. Ambrose and Ashford as they prepare for the CCIW Indoor Championships next weekend in Kenosha, Wisconsin on Friday, February 22 and Saturday, February 23.
2013 NCAA DIVISION III INDOOR DUAL MEET POWER RANKINGS
Sponsored by the USTFCCA ** As of 02/14/2013 ** POLL #4
| | | | |
| --- | --- | --- | --- |
| RANK | SCHOOL | REGION | POINTS |
| | | | |
| 1. | Wisconsin-LaCrosse | Midwest | 151.42 |
| 2. | Ithaca | Atlantic | 146.29 |
| 3. | North Central | Midwest | 143.64 |
| 4. | Wartburg | Central | 143.21 |
| 5. | Williams | New England | 135.77 |
| 6. | Tufts | New England | 134.90 |
| 7. | Massachusetts Institute of Technology | New England | 134.20 |
| 8. | SUNY Cortland | Atlantic | 133.87 |
| 9. | Illinois Wesleyan | Midwest | 133.75 |
| 10. | Washington (Missouri) | Midwest | 133.06 |
| 11. | Wisconsin-Whitewater | Midwest | 132.13 |
| 12. | Ohio Wesleyan | Great Lakes | 131.41 |
| 13. | Carthage | Midwest | 131.23 |
| 14. | Wisconsin-Eau Claire | Midwest | 131.17 |
| 15. | Wisconsin-Stevens Point | Midwest | 128.71 |
| 16. | St. Lawrence | Atlantic | 128.71 |
| 17. | Augustana | Midwest | 123.96 |
| 18. | College at Oneonta | Atlantic | 120.27 |
| | | | |
| 19. | Wisconsin-Platteville | Midwest | 120.23 |
| 20. | Bates | New England | 119.49 |
Story written by Student Assistant Cody Sharko