February 14, 2013
Vikings now eighth in NCAA Men's Track & Field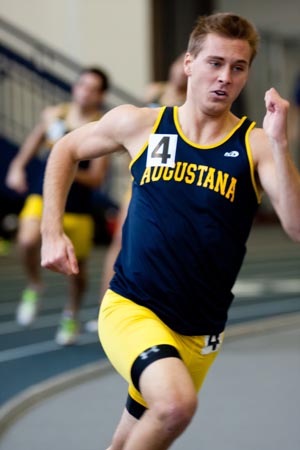 Sophomore Vincenzo DalPozzo and the Augustana Vikings are currently ranked eighth in NCAA Division III.
With just weeks remaining in the indoor season, Augustana is ranked eighth in the most recent NCAA Division III Dual Meet Power Rankings according to the US Track & Field and Cross Country Coaches Association (USTFCCCA). The move from last week, ranked fourth with 143.36 points, to this week, eighth with 145.41 points, comes as a bit of surprise as the Vikings are coming off a great team performance at the Grinnell Invitational in which they came home victorious out of 10 teams.

North Central continues to lead the pack with 155.86 points while Tufts is second and Wisconsin-LaCrosse third with 151.26 and 150.93, respectively. Wisconsin-Oshkosh sits at fourth with 150.59 points and Bates College remains in the top five with 149.24 points. Although finishing behind Augustana at the Grinnell Invitational placing third, Wartburg College stays ahead of the Vikings with 148.48 points with SUNY Cortland closely behind them with 148.43 points. Carthage (145.15) and Wisconsin-Platteville (143.31) round out the top ten.
This poll, conducted by the U.S. Track & Field and Cross Country Coaches Association, quantifies the depth of each team. The team's total score is the sum of all points earned in each event. Two individual athletes are scored per event, as well as one relay team. The points are based on the best marks of an event in the current season, with the faster times and farther distances worth more.
Augustana started the season with a team victory in the Sol Butler Invitational on January 12 in Dubuque, Iowa, scoring 187.5 points to win the five-team event. On Saturday, January 19 the Vikings competed in the Midwest Invitational in Monmouth, Illinois and won seven events although there were no team scores. The Vikings tied for first in the Olivet Nazarene Invitational on Friday, January 25 in Kankakee, Illinois and were fifth at the Whitewater Invitational on Saturday, February 2 in Whitewater, Wisconsin. They most recently won the Grinnell Invitational on Saturday, February 9 in Grinnell, Iowa.
The Vikings will compete in a triangular meet later tonight at home against St. Ambrose and Ashford as they prepare for the College Conference of Illinois & Wisconsin Indoor Championships next weekend in Kenosha, Wisconsin on Friday, February 22 and Saturday, February 23.
2013 NCAA DIVISION III INDOOR DUAL MEET POWER RANKINGS
Sponsored by the USTFCCAAs of 02/14/13 POLL #4
| | | | |
| --- | --- | --- | --- |
| RANK | SCHOOL | REGION | POINTS |
| 1. | North Central | Midwest | 155.86 |
| 2. | Tufts | New England | 151.26 |
| 3. | Wisconsin-LaCrosse | Midwest | 150.93 |
| 4. | Wisconsin-Oshkosh | Midwest | 150.59 |
| 5. | Bates | New England | 149.24 |
| 6. | Wartburg | Central | 148.48 |
| 7. | SUNY Cortland | Atlantic | 148.43 |
| 8. | Augustana | Midwest | 145.41 |
| 9. | Carthage | Midwest | 145.15 |
| 10. | Wisconsin-Platteville | Midwest | 143.31 |
Story written by Student Assistant Cody Sharko