What is Love? Ask the Professor
Emil Kramer, Classics Love of the beautiful is essential for philosophy, but if Love is of the beautiful, it cannot be beautiful. Had Achilles not loved Briseis and Agamemnon Chryseis, there would be no Iliad; had Odysseus not loved Penelope (and Circe and Calypso and Nausicaa), there would be no Odyssey.
Chip Morrow, Computer Science To our computers, "love" is just a word of four letters that appear, in binary, as 01101100 01101111 01110110 01100101.
Ann Boaden, English Her eyes aren't suns, he's toffee-nosed and arrogant, she's not pretty enough to dance with.
Contrary to popular belief, novelists and poets strip off "love's illusion" to celebrate the real. Only when a character can exclaim, in humility, "Till this moment I never knew myself"—or the other—can love begin.
Sarah McDowell, English I offer Jane, Will and James.
In vain I have struggled. It will not do. My feelings will not be repressed.
O learn to read what silent love hath writ;
To hear with eyes belongs to love's fine wit.
all perfume yes and his heart was going like mad and yes I said yes I will Yes.
Lendol Calder, History (who teaches the LSFY course known as "The Love Shack") Love was invented either thousands of years ago or in December 1972, when Roberta Flack recorded "The First Time Ever I Saw Your Face." The history of love tells two stories. One is a tale of conflict between passion and marriage, anarchic desire and necessary social restraint. The other, how "God is love" became "love is God."
Ian Harrington, Neuroscience Neuroscientists ground their explanations of behavior and experience in the actions of the brain. Romantic love seems to depend on the actions of the neurochemical dopamine. Interestingly, the brain areas activated by love are also activated by many drugs, including cocaine and amphetamine. Ke$ha was on to something when she sang, "Your love, your love, your love is my drug." Happy Dopamine Day!
Amanda Makula, Tredway Library "Love" in ALiCat yields 1,608 results. Browse the BF section for the psychology of love, or look in PR for love in English literature. Visit Special Collections to see love letters penned by students in the 19th century, or old valentines. Finally, curl up with a good book in your favorite library spot ... love!

Margaret Rogal, Tredway Library To me, love is synonymous with poetry. Why is poetry the medium for lovers? Because it's intimate, intense and portable—easily passed from hand to hand, pocketed, stored between the pages of a favorite book, or stuffed under a pillow—and, for poor lovers, a poem is cheap!
Field Notes
As part of her Senior Inquiry project in her communication studies major, Jennifer Schroder organized a huge event: 33 teams of about a dozen people, each packaging food for Quad-Cities food pantries and people in Nicaragua, Honduras and Haiti. Jennifer partnered with the local group called Kids Against Hunger–Your Quad Cities in support of World Hunger Day.
In her Augieblog entry about World Hunger Day, Jennifer said that "ever since taking my learning community junior year, where I had to volunteer at a food pantry, I have been very interested in hunger and poverty issues." It seemed natural that she would select the civic engagement option for her Senior Inquiry in communication studies.
All Augustana students, in every discipline across campus, now complete Senior Inquiry before graduating. Most departments require a research-based or creative project, or a paper and presentation following an intensive seminar. Like communication studies, a few offer a community service-based option. Several departments, including biology and business administration, integrate Senior Inquiry with internship experience.
The capstone for Augustana students was first proposed in 2005. Through Senior Inquiry, students synthesize their learning throughout the liberal arts to inform the substantial project in their major field. They also reflect on how their project might benefit the local, global or academic community. Finally, the experience and final project can help students stand out to employers or graduate schools.
New Face on Campus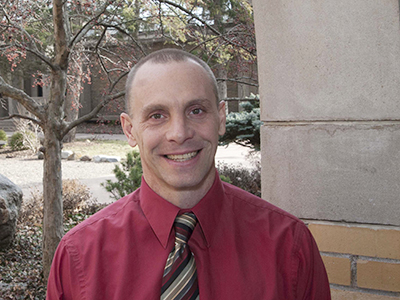 Dr. Michael Reisner, Director of the Upper Mississippi River Studies Center
J.D., University of Oregon
Ph.D., Oregon State University
Dr. Michael Reisner was inspired to become a sustainability scientist as a youngster, after a trip with his father to Cairo, Illinois, where the Ohio and Mississippi rivers join. There he was struck by the abundance of pollution in an area where the immense natural forces at work should have been the most memorable impression.
Michael is the director of the new Upper Mississippi River Studies Center. He was attracted to this position and the new center for two reasons: he has always wanted to teach at a small liberal arts college, and he saw in this position a great opportunity to work with college faculty, students and regional stakeholders on environmentally sustainable solutions for the upper Mississippi River.
Michael's last position was with the University of Wisconsin–Stevens Point, where he served as an assistant professor of energy and natural resources policy. His wife and three kids are still in Madison, Wisconsin, but they plan to make the move to the Quad Cities later this spring. Avid mountain bikers all, the Reisner family can't wait to begin exploring the many bike trails on both sides of the river.
Prior to his time at Wisconsin–Stevens Point, Michael spent nine years practicing law. While serving as an attorney in Montana, he helped to negotiate an agreement between miners and conservation groups that saved about 1,000 jobs, without degrading the water or air quality. At the University of Wisconsin, his work focused on creating more sustainable energy systems for the upper Midwest. Along the way, he helped to build better relationships between the academic community and the broader community—businesses, neighborhoods and conservation groups.
Michael plans to devote many of his first 100 days on campus to meeting with as many Augustana administrators, faculty and regional stakeholders as possible, to get a sense of where they see opportunities for the center. He also plans to establish an advisory board and then begin to work with the group to establish a clear mission and vision for the Upper Mississippi River Studies Center. Stop by Michael's office in the Community Engagement Center on the first floor of Sorenson Hall, and say hello.
From the Cabinet
General Counsel Sheri Curran
Often I am asked what a general counsel does. My first, and perhaps oversimplified answer, is that I help manage risk for the college. But what does that mean at a small liberal arts college? And what is the real value of a general counsel?
As Augustana's in-house attorney, I attend to its legal needs. This includes reviewing contracts, managing intellectual property, and managing threatened or actual litigation. The legal environment for businesses is increasingly complex, and higher education is no exception.
For instance, an employer's failure to comply with employment laws creates significant legal risk, and compliance with the myriad of laws and regulations in employment alone is difficult without legal counsel. I work closely with HR in reviewing our policies, practices and procedures in a constant effort to remain compliant with the law. Augustana College is a legal entity, and with that comes certain legal obligations in the way we operate. I work with President Bahls and the chairman of the Augustana College Board of Trustees to ensure that the college is operating within the confines of the law and good governance.
The primary distinction between the legal needs of Augustana and a large university is volume. We experience most of the same legal risks and issues, and have most of the same legal needs as any large university. We are fortunate, however, that our legal needs don't consume multiple full-time positions, as they most certainly do at larger institutions.
The value of a general counsel, however, goes beyond tending to these legal needs. A mentor of mine recently likened our role to the nautical expression throwing "an anchor to windward." The windward side of the sailboat is the side facing the wind, and throwing an anchor to windward will keep the boat from drifting with the prevailing wind. When forces are pushing us in one direction, it is my role to ensure we take the course with a full understanding of the facts, as well as the risks. If we go with the wind, we do so only because we have chosen to go in the direction it will take us.
Seen & Heard
"What is it that is so compelling to people that they feel they have to read the Bible in just this way, and dump Darwin?"
"The Genesis story has gone to court in 26 states. Scopes would be unknown if he had questioned any other piece of literature."
"Genesis is maybe the most enigmatic story ever told. We take the facts to court, and in the meantime, we're missing the truth. It's bad reading."
—Paul Olsen, Professor of English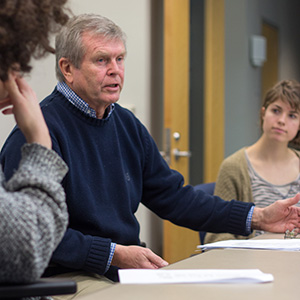 Paul Olsen spoke on Darwin and the Victorian Poets on January 23, during a weeklong series of events commemorating Charles Darwin.
Acknowledge is published by the Office of Communication and Marketing at Augustana College in Rock Island, Illinois. Contact Beth Roberts, editor. Photos in this issue were contributed by Special Collections in the Thomas Tredway Library (valentine image at the top), Scott Cason and Andrew Petersen in Communication and Marketing, and Long Nguyen '16 of the Augustana Photo Bureau.