February 12, 2013
Close matches hurt in loss at Loras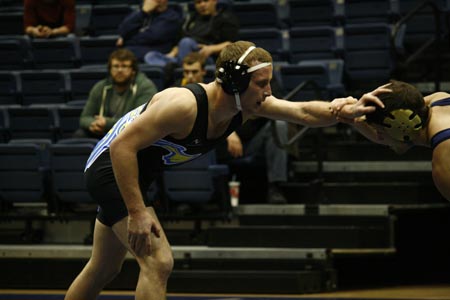 Kevin Sundberg picked up an 8-1 win over Dan Colatarti at 157 pounds on Tuesday, February 12 against Loras. Sundberg is now 27-15 on the season for the 14-5 Vikings, who are ranked 27th in NCAA Division III.
DUBUQUE, Iowa - The inability to win close matches cost 27th ranked Augustana in a 28-9 loss to Loras on Tuesday, February 12 at the Athletics and Wellness Center in Dubuque, Iowa. Five of the 10 individual weight classes were decided by less than three points and the Vikings lost all five of those.

Augustana picked up a forfeit at 125 pounds from freshman Jimmy Panozzo (Carl Sandburg HS, Orland Park, Ill.) and also got a win at 157 pounds when sophomore Kevin Sundberg (Paw Paw HS, Paw Paw, Mich.) defeated Dan Colatarti 8-1. Those were the only victories of the night for the Vikings. Panozzo is now 26-12 overall and Sundberg moved to 27-15.
Following Panozzo's forfeit win at 125, junior Jake Scholten (Rockford HS, Grandville, Mich.), the number six ranked wrestler in NCAA Division III at 125, lost a tough 3-2 decision at 133 to Nick Steger. Freshman Isaiah Schaub (St. Francis HS, Traverse City, Mich.) then lost a second straight close match for the Vikings when he fell 13-10 to Evan Weaver at 141.
The match was tied 9-9 after Sundberg's win at 157 but Augustana then dropped three straight weight classes by a total of seven points. Sophomore Connor Cummings (Downers Grove North HS, Woodridge, Ill.) fell to Joe Butler 5-3 at 165 and senior Matt Burns (Naperville Central HS, Naperville, Ill.) lost 8-5 to Stephan Birt at 174. A third straight close loss came at 184 where sophomore Thomas Reyhons (Davenport Assumption HS, Davenport, Iowa) lost 9-7 to Conor Winel.
Augustana is now 14-5 on the season while Loras went to 10-12.
LORAS 28, AUGUSTANA 9
Tuesday, February 12, 2013
Athletics & Wellness Center
Dubuque, Iowa
INDIVIDUAL RESULTS
125 - Jimmy Panozzo (A) won by forfeit
133 - Nick Steger (L) beat Jake Scholten (A) 3-2
141 - Even Weaver (L) beat Isaiah Schaub (A) 13-10
149 - Greg Vance (L) beat Hector Ruiz (A) 11-5
157 - Kevin Sundberg (A) beat Dan Colatarti (L) 8-1
165 - Joe Butler (L) beat Connor Cummings (A) 5-3
174 - Stephan Birt (L) beat Matt Burns (A) 8-5
184 - Conor Winel (L) beat Thomas Reyhons (A) 9-7
197 - Malcolm Watson (L) beat Jake Melik (A) 15-5
285 - James Buss (L) pinned John Schraidt (A) @ 2:59
RECORDS: Augustana 14-5 & Loras 10-12