February 12, 2013
"Project Hoodie" benefits local high school students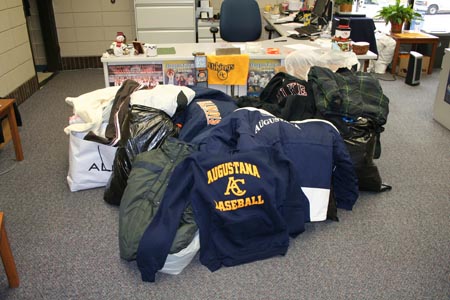 An e-mail from Rock Island teacher Nicole Regan to Kathi Fox, administrative assistant for the Augustana athletic department, resulted in "Project Hoodie." The collection of winter clothing will benefit students at Rock Island High School who don't have proper attire for the cold Midwestern winter. The collection of clothing sits in front of Fox' desk in the athletic department's main office while waiting for Regan to pick it up.
A glance out her car window on a cold January day by Rock Island High School teacher Nicole Regan provided the impetus for an idea that eventually culminated in a generous gift of good-will by the Augustana athletic department. Regan noticed that many of the students heading in to school were ill-equipped for the weather and she decided to do something about it.

"I came up with the idea one day as I was driving to school and saw many of our students walking to school or waiting for busses in the cold weather," said Regan, who teaches Spanish and English Language Learners at Rock Island. "Some did not have coats. We have a very large percentage of students here that are from lower income homes. Some parents have to decide between buying the growing student a new winter coat and paying the heating bill."
Her brainchild resulted in "Project Hoodie" and the result was a tremendous outpouring of support. Regan sent an e-mail to Kathi Fox, the administrative assistant for athletics at Augustana. She asked for any old sweatshirts or other cold-weather gear that might be sitting unused in offices and storage rooms in the Carver Center. "I knew there were people out there who could help, it was just a matter of finding the right group," Regan said. "I thought college kids would have some of the same tastes in clothing as our high school students."
That resulted in an e-mail from Fox to her colleagues in the athletic department and in two weeks the results were stunning. When Regan came to pick up the donations, she loaded 12 extra-large garbage bags into her van along with a box that took two people to lift. There was an assortment of "hoodies", winter coats, pants, gloves and hats along with other items. They came from members of the coaching staff and from student-athletes from the various teams.
"I didn't expect such an outpouring of generosity," said Regan. "I was overwhelmed with the amount of clothing collected. When Kathi told me I would need a truck to pick up the items, I thought she was kidding. I am filled right now with excitement, appreciation and gratitude."
Fox was glad to help out in any way. "As always, I am impressed by our student athletes," she said. "They were asked to give something of themselves and the response was overwhelming. And one student athlete made the decision to offer the challenge to her local church. The outpouring of donations from her congregation was tremendous and extraordinary. From my first day of work at Augustana, I have been moved by the willingness and drive of our student body to go out of their way to help others in need and less fortunate."
"Our staff and student-athletes share their time, talent and treasure in a variety of ways, and this was just another wonderful example of Augustana responding to a need in our immediate community," said Mike Zapolski, director of athletics at Augustana. "The outpouring of support will be a tremendous benefit to our friends who attend Rock Island High School."
Regan will reach out to fellow teachers and ask if they know of any students who are in need of warm clothing. The students will be invited to come in after school and look through the items. She is also going to tell the students in her classes to keep an eye out for other students who are walking or waiting for busses who don't have warm clothing.
"I am, and the other teachers here as well, really are grateful for the generosity shown by the entire athletic department at Augustana," said Regan. "It is great to see such compassion for others in our community."