February 11, 2013
Focus and leadership will key softball in 2013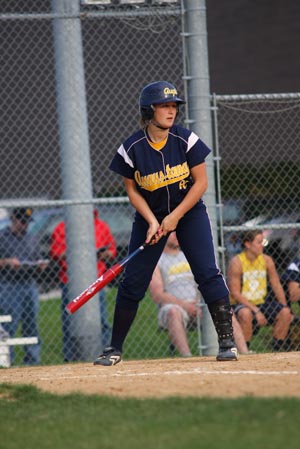 Senior Jenna Nelson was an all-region selection as a sophomore when she batted .378 and had a .425 on-base-percentage. She was also a Capital One Academic All-District selection as a junior in 2012.
Over the past two seasons the Augustana softball team has played with a lot of younger players in the lineup but those two years of going with younger players could pay off in 2013. The Vikings will be able to field a much more veteran lineup this season and that makes veteran head coach Kris Kistler happy and excited for the upcoming campaign.

"This group has been really focused and hard-working," said Kistler, who is entering her 14th season at the Viking helm with a 367-188-2 record. "The leadership, which has been awesome, is hungry and wants to do well and finish on a high-note. The upperclass players have done a great job of leading us."
Augustana was 19-19 in 2011 and 25-13 in 2012, certainly not bad numbers but an 11-17 record in the College Conference of Illinois & Wisconsin during that time frame has Kistler and her team wanting redemption.
"We know that we want to compete at the top of the CCIW and that has been our goal throughout all the fall drills and the early season practices," she said. "That has been the drive for our leaders and they have done a great job of keeping that in front of the entire team."
The Vikings return six position players with starting experience plus a starting pitcher so Kistler has plenty of talent to work with. "I think we are going to be a good fielding team and our baserunning is excellent as well," said Kistler who has been named CCIW "Coach of the Year" three times during her tenure at Augustana. "We will need some of our younger players to step up in pitching as well as hitting but the groundwork is there."
All four positions in the infield return a starter. Between sophomore Christie Wiersema (Morrison HS, Morrison, Ill.) at first base, sophomore Jenna Teson (Jacobs HS, Algonquin, Ill.) at second base, junior Krista Watson (Coal City HS, Coal City, Ill.) at shortstop and junior Chaney Tambling (Dwight HS, Dwight, Ill.) at third base, Kistler can point to 144 games started last spring.
Wiersema, who batted .327 with 34 hits in 104 at-bats with 18 runs scored, 22 RBI, four doubles and three home runs, will get challenges from freshman Ashley Anderson (Sherrard HS, Viola, Ill.), sophomore Cassie Saufley (Normal West HS, Normal, Ill.) and junior Jaime Rehmert (Sterling HS, Sterling, Ill.). Rehmert, who will also see action as a pitcher, hit three home runs last year in 33 at-bats and had 11 RBI. Saufley played in just four games.
Teson was the second leading hitter on the team with a .345 (39-113) average with 20 runs scored, three doubles and five RBI. Sophomore Chelsea Lavin (Downers Grove South HS, Downers Grove, Ill.), who is really an outfielder, could be used here if the need arises. Lavin played in 22 games last year.
Watson is a two-time all conference selection and last year was named to the all-region team after batting .380 (46-121) with 25 runs scored, 18 doubles, one triple, one home run and 22 RBI. She hit nine home runs her freshman year and led the CCIW in three offensive categories in 2011.
Tambling batted .299 with 26 hits in 87 at-bats last year. She scored seven runs with three doubles, one triple, two home runs and 22 RBI. Other candidates at third base will be senior Jenna Nelson (Orion HS, Orion, Ill.) freshman Lisa Bartha (Glenbard South HS, Wheaton, Ill.). Nelson was an all-region selection in 2011 when she batted .378 but last year she only had 23 at-bats.
The lone starter in the outfield is sophomore Laura Behnke (Wheaton St. Francis HS, Roselle, Ill.). She started 25 games and batted .299 with 20 hits in 67 at-bats while scoring 10 runs with eight doubles, a triple and 11 RBI. Lavin and Wiersema might play in the outfield as well as freshmen Cheyenne Burnett (Rock Falls HS, Rock Falls, Ill.) and Jennifer Gray (Lincoln-Way East HS, Mokena, Ill.). Senior Amanda Johnson (York HS, Elmhurst, Ill.) could be used either in the outfield or as a designated hitter after appearing in 21 games last year.
Sophomore Jaclyn Wrona (Glenbard South HS, Wheaton, Ill.) should get the nod at catcher after starting 15 games last year and batting .310 with 13 hits in 42 at-bats while scoring eight runs with two doubles and eight RBI. Nelson could also be called on to catch in the need arises.
Junior Sarah Hintz (LeRoy HS, LeRoy, Ill.) is the top returning pitcher. She was 15-4 last year with a 1.58 earned run average in 110 2/3 innings of work. She struck out 77 and walked just 25 while appearing in 20 games. She was named the Vikings' MVP. Wiersema, Rehmert and Anderson will form the rest of the mound corps. Wiersema was 1-1 with a 3.20 earned run average in 15 1/3 innings while Rehmert was 0-1 with a 3.08 ERA in 25 innings of work.