February 9, 2013
Women's track & field places third at Grinnell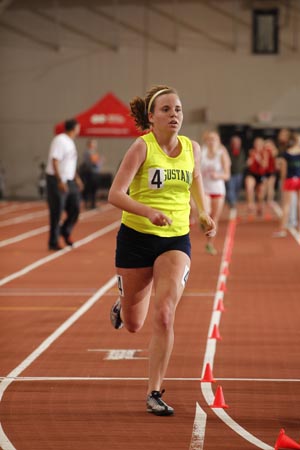 Lizzie Lundine won the 5000 with a time of 19:09.26 at the Darren Young Invitational on Saturday, February 9 in Grinnell, Iowa to help lead Augustana to a third place finish in the 10-team meet.
GRINNELL, Iowa - The 13th ranked Augustana women's track & field team won a pair of events en route to a third place finish in the 10-team Darren Young Invitational in Grinnell, Iowa on Saturday, February 9 at the Bear Center on the campus of Grinnell College. Veteran head coach Fred Whiteside's Vikings scored 68 points to finish behind Nebraska Wesleyan (105) and Wartburg (102) in the team standings.

Nebraska Wesleyan is ranked 30th in the latest NCAA Division III national poll which is conducted by the US Track & Field/Cross Country Coaches Association while Wartburg was third this past week. Augustana is currently in the 13th spot in the weekly ranking.
Placing fourth behind the Vikings on Saturday was Bethel with 55 points while Grinnell took fifth with 42. Central of Iowa (38.5), Cornell (37.5), Simpson (26), Buena Vista (21) and Principia (16) rounded out the team scoring.
Sophomore Lizzie Lundine (Willowbrook HS, Villa Park, Ill.) won the 5000 with a time of 19:09.26 for the lone individual victory for Augustana. The distance medley relay team of sophomore Jessica Bacon (Rock Island HS, Rock Island, Ill.), freshman Ashley Jensen-Anderson (Rock Island HS, Rock Island, Ill.), junior Kelsey Stockert (Peoria Notre Dame HS, Mapleton, Ill.) and junior Kate Benge (Pleasant Valley HS, Bettendorf, Iowa) provided the other winner for the Vikings with a time of 12:54.32.
Benge also placed second in the 800 with a time of 2:21.59 while Bacon was third in the same event at 2:23.19.
Sophomore Astin Moravek (Riverside-Brookfield HS, Riverside, Ill.) took second in the triple jump (33' 11 ½") and fourth in the long jump (16' 6"). Junior Lianna Beauchamp (Genoa-Kingston HS, Kingston, Ill.) placed third in the weight throw with a toss of 49' 8 ½" and eighth in the shot put at 36' 9". Freshman Rachel Rodriguez (Mahomet-Seymour HS, Mahomet, Ill.) ran 20:18.67 in the 5000 and finished third. Senior Taylor Tjardes (Gibson City-Melvin-Sibley HS, Gibson City, Ill.) cleared 9' 0 ¼" to take third in the pole vault.
Junior Kierra Smith (Creston HS, Creston, Iowa) was fourth in the 60 meter hurdles with a time of :09.55. Junior Johanna Schnitzler (Downers Grove South HS, Woodridge, Ill.) placed fifth in the high jump with a clearance of 4' 11". Junior Kristyn Barton (York HS, Elmhurst, Ill.) ran 5:23.76 for sixth place in the mile. Sophomore Laura Polizzi (Crystal Lake South HS, Crystal Lake, Ill.) took seventh in the triple jump (32' 3 ¾") and sophomore Lorraine Stamberger (LaMoille HS, LaMoille, Ill.) finished seventh in the 800 (2:25.76). Senior Lauren Hoffman (Wheaton North HS, Winfield, Ill.) cleared 4' 9" in the high jump to take eighth.
The 800 relay team of Jensen-Anderson, Smith, Hoffman and freshman Rachel Akmakjian (Poudre HS, Fort Collins, Colo.) took sixth with a time of 1:53.47. The 1600 relay unit of Smith, Akmakjian, freshman Stephanie Sorrentino (York HS, Elmhurst, Ill.) and Hoffman also ended up sixth, with a time of 4:11.31.
The Vikings will host the Augustana Invitational on Thursday, February 14 in the PepsiCo Center.