February 9, 2013
Wielenga third at CCIW Diving Championships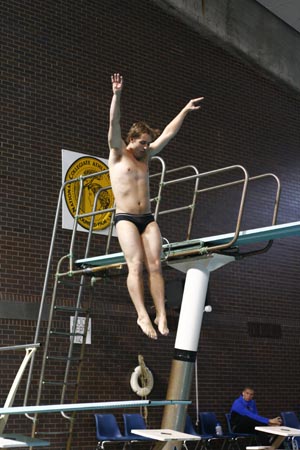 Sophomore Josh Wielenga finished third in both the one and three-meter events at the CCIW Diving Championships Saturday in Bloomington, Illinois.
BLOOMINGTON, Ill.- Sophomore Josh Wielenga (School of Environmental Studies, Apple Valley, Minn.) took third place in both the one and three-meter events Saturday at the College Conference of Illinois & Wisconsin Diving Championships on the campus of Illinois Wesleyan University.

After finishing fourth in each event as a freshman, Wielenga moved up one spot this year. He compiled 326.00 in the one-meter competition, trailing only champion Samuel Gould of Rose-Hulman (350.10) and Wheaton's Scott Gallagher (335.45).
At one meter, Wielenga's 319.70 points were good for third behind Gould (386.00) and Joshua Maurer (339.10), also of Rose-Hulman.
Coach Scott Johannsen's Viking swimmers will be competing at the CCIW Championships at Wheaton College on Thursday, February 14.