February 9, 2013
Despite rebounding edge Vikings fall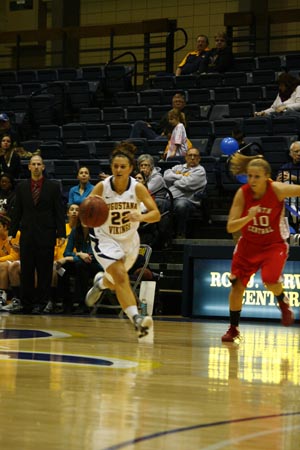 Gianna Pecora scored 13 points with three rebounds, two assists and one steal in her final game at the Carver Center as the Vikings fell to North Central 87-67 on Saturday, February 9.
ROCK ISLAND, Ill. - Despite holding a huge advantage in rebounding, Augustana dropped an 87-67 decision to North Central in College Conference of Illinois & Wisconsin action on Saturday, February 9 in the Carver Center. The Vikings dominated on the boards to the tune of a 64-48 margin but were haunted by 36 turnovers in the loss.

North Central fired up 65 three point field goal attempts and made 17 for a percentage of just .262 and the Cardinals shot just .313 (30-96) from the floor. Augustana wasn't shooting much better than the visitors, however, as the Vikings hit on .397 (27-68) for the game.
The game was tied 30-30 with 2:44 left in the first half when North Central closed out the first stanza on an 8-2 run to take a 38-32 lead into the locker room. In the five minutes of the second half the Cardinals went on a 27-12 run to take a 57-42 lead with 14:54 left. The lead never dipped below 13 points from that time on.
Junior Molly Etheridge (Normal Community HS, Bloomington, Ill.) led Augustana in scoring with 14 points and in rebounding with 10 while senior Gianna Pecora (Downers Grove South HS, Darien, Ill.) dropped in 13 points in her final game in the Carver Center. The only other senior on the team, Devon Diorio (Glenbard South HS, Glen Ellyn, Ill.), drew a start for the first time in her career and scored fourth points with three rebounds and a blocked shot. Augustana got eight rebounds apiece from junior Amy Hicks (Rockford Christian HS, Rockford, Ill.) and freshman Andrea McNally (Hinsdale South HS, Burr Ridge, Ill.) and freshman Maddie Kerr (Elgin St. Edward HS, Streamwood, Ill.) hauled in seven.
North Central was led in scoring by Kelsey Cooling and Maryssa Cladis with 14 points each while Sophie Newson had 12.
Augustana is now 7-16 overall and 2-10 in the CCIW while North Central is 12-11 and 5-7.