February 8, 2013
Wrestlers beat Chicago 29-11 and go to 14-4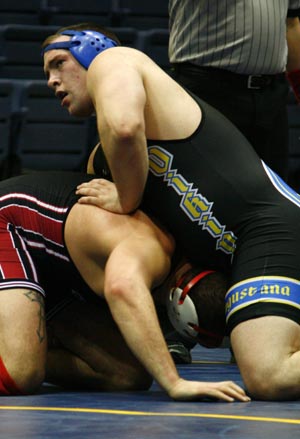 Sophomore John Schraidt picked up a 12-4 victory over Ryan Walsh of Chicago in the 285 pound weight class on Friday, February 8. Schraidt's win makes him 28-8 on the season and was the finishing touch in Augustana's 29-11 victory over the Maroons. The Vikings are now 14-4 this year and currently ranked 27th in NCAA Division III.
CHICAGO, Ill. - Augustana, ranked 27th in NCAA Division III, moved to 14-4 on the season with a convincing 29-11 victory over the University of Chicago on Friday, February 8 in the Crown Center. It was the second win of the season for the Vikings over the Maroons and it played out nearly the same way as Augustana's 25-15 victory on January 5 in Galesburg, Illinois.

In the first meeting head coach Eric Juergens' team won six of the 10 weight classes while on Friday the Vikings won seven of 10. Like the match earlier, the Vikings jumped out to a big lead. Augustana won the first three weight classes the first two times the teams met to lead 13-0 while this time the Blue & Gold took the first four and bolted out to a 16-0 advantage. The losses in the first match were at 149, 165, 174 and 197 while on Friday Augustana dropped decisions at 157, 165 and 197.
The biggest swing was at 149 pounds where sophomore Walter Piech (Lincoln-Way East HS, Mokena, Ill.) lost a 9-4 decision to Joseph Ruettiger in January. This time around Piech pinned Ruettiger at 4:03. Piech's work at 149 put the finishing touches on a Viking run of four straight wins to start the match and it made him 20-12 on the year.
Freshman Jimmy Panozzo (Carl Sandburg HS, Orland Park, Ill.) opened things up with a 4-1 win over Alex Moore at 125 pounds. Panozzo moved to 25-12 this season with the win. Junior Jacob Scholten (Rockford HS, Grandville, Mich.) followed that with a 15-4 major decision over William Long at 133 that made Scholten 34-5. Freshman Isaiah Schaub (St. Francis HS, Traverse City, Mich.) beat Joe Ellis 8-2 to move to 14-8.
Chicago picked up wins at 157 where James Layton beat sophomore Kevin Sundberg (Paw Paw HS, Paw Paw, Mich.) 9-1 and 165 where Sam Hopkins defeated sophomore Connor Cummings (Downers Grove North HS, Woodridge, Ill.) 3-1. That was the exact same score of the match when the two met earlier in the season. With the score 16-7, senior Matt Burns (Naperville Central HS, Naperville, Ill.) came through with a 6-0 victory over Ryley Hankenson at 174 to push his record to 30-6.
Sophomore Thomas Reyhons (Davenport Assumption HS, Davenport, Iowa) made quick work of Sam Pennisi at 184, pinning him in just 17 seconds to make the team score 25-7 in favor of Augustana. Reyhons is now 12-6 this year. The Maroons got a win at 197 when Mario Palmisano beat freshman Jake Melik (Pleasant Valley HS, Bettendorf, Iowa) 17-5 but sophomore John Schraidt (Riverside-Brookfield HS, Riverside, Ill.) put the finishing touches on the Augustana win with a 12-4 victory over Ryan Walsh at 285.
Augustana will close out the dual portion of its season on Tuesday, February 12 at Loras with the first weight class scheduled for 7:30 p.m.
Augustana 29, Chicago 11

Friday, February 8, 2013
The Crown Center *** University of Chicago *** Chicago, Illinois
125 - Jimmy Panozzo (AUG) def. Alex Moore (UC), 4-1 decision
133 - Jacob Scholten (AUG) def. William Long (UC), 15-4 major decision
141 - Isaiah Schaub (AUG) def. Joe Ellis (UC), 8-2 decision
149 - Walter Piech (AUG) def. Joseph Ruettiger (UC), Fall (4:03)
157 - James Layton (UC) def. Kevin Sundberg (AUG), 9-1 major decision
165 - Sam Hopkins (UC) def. Connor Cummings (AUG), 3-1 decision
174 - Matthew Burns (AUG) def. Ryley Hankenson (UC), 6-0 decision
184 - Thomas Reyhons (AUG) def. Sam Pennisi (UC), Fall (0:17)
197 - Mario Palmisano (UC) def. Jake Melik (AUG), 17-5 major decision
285 - John Schraidt (AUG) def. Ryan Walsh (UC), 12-4 major decision
Augustana, ranked 27th in NCAA Division III, is now 14-4 on the year while Chicago is 4-5.