February 7, 2013
Vikings ranked fourth in NCAA men's track & field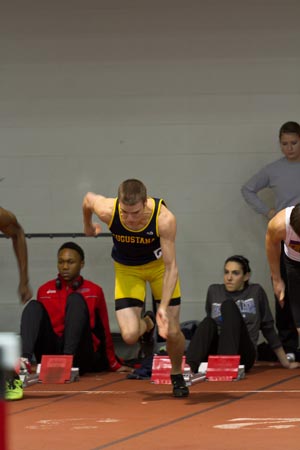 Sophomore David Voland has the best time on the Augustana team in both the 55 and 60 meter hurdles and ran the anchor leg on the 1600 relay team that recorded a season's best time of 3:18.64 in winning the Wisconsin-Whitewater Invitational last weekend. The Vikings are currently ranked fourth in the NCAA Division III indoor power ranking.
ROCK ISLAND, Illinois - As the indoor season continues to heat up, Augustana stayed in the top five in the latest NCAA Division III Dual Meet Power Rankings according to the US Track & Field and Cross Country Coaches Association (USTFCCCA). The Vikings, who were third last week with 136.28 points, are now fourth with 143.36.

North Central is leading the nation with 153.20 points while Bates is second with 149.24 and Wartburg third with 148.48. Augustana sits in fourth with 143.36 and Wisconsin-LaCrosse is fifth with 141.50. Wisconsin-Whitewater (141.50), Carthage (140.93), Monmouth (135.41), Massachusetts Institute of Technology (134.49) and Ohio Wesleyan (134.09) round out the top 10. The Midwest Region is well represented with North Central, Augustana, Wisconsin-LaCrosse, Wisconsin-Whitewater, Carthage and Monmouth all occupying spots in the top eight teams.
This poll, conducted by the U.S. Track & Field and Cross Country Coaches Association, quantifies the depth of each team. The team's total score is the sum of all points earned in each event. Two individual athletes are scored per event, as well as one relay team. The points are based on the best marks of an event in the current season, with the faster times and farther distances worth more.
Augustana started the season with a team victory in the Sol Butler Invitational on January 12 in Dubuque, Iowa, scoring 187.5 points to win the five-team event. On Saturday, January 19 the Vikings competed in the Midwest Invitational in Monmouth, Illinois and won seven events although there were no team scores. The Vikings tied for first in the Olivet Nazarene Invitational on Friday, January 25 in Kankakee, Illinois and were fifth at the Whitewater Invitational on Saturday, February 2 in Whitewater, Wisconsin.
This weekend Augustana will head to Grinnell, Iowa for the Grinnell Invitational on Saturday, February 9.
2013 NCAA DIVISION III INDOOR DUAL MEET POWER RANKINGS
Sponsored by the USTFCCAAs of 02/07/13 POLL #3
| | | | |
| --- | --- | --- | --- |
| RANK | SCHOOL | REGION | POINTS |
| 1. | North Central | Midwest | 153.20 |
| 2. | Bates | New England | 149.24 |
| 3. | Wartburg | Central | 148.48 |
| 4. | Augustana | Midwest | 143.36 |
| 5. | Wisconsin-LaCrosse | Midwest | 141.50 |
| 6. | Wisconsin-Whitewater | Midwest | 141.50 |
| 7. | Carthage | Midwest | 140.93 |
| 8. | Monmouth | Midwest | 135.41 |
| 9. | Massachusetts Institute of Technology | New England | 134.49 |
| 10. | Ohio Wesleyan | Great Lakes | 134.09 |