February 7, 2013
Women's track ranked 13th in NCAA Division III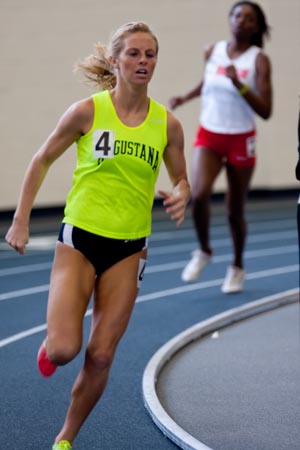 Junior Kate Benge and the Augustana women's track & field team is currently ranked 13th in NCAA Division III.
ROCK ISLAND, Illinois - Despite increasing its point total in the weekly NCAA Division III indoor track & field power ranking, Augustana slipped to 13th in the United States Track & Field and Cross Country Coaches Association poll. The Vikings of veteran head coach Fred Whiteside were fourth last week with 120.85 points and this week jumped to 122.53 points but fell out of the top 10.

Augustana is coming off a fifth place performance at the Warhawk Invitational in Whitewater, Wisconsin on Saturday, February 2. Senior Sarahbeth Jones (Warren Township HS, Wadsworth, Ill.) was the lone winner for the Vikings as she took first in the mile with a time of 5:07.92.
Wisconsin-LaCrosse leads the NCAA Division III poll, which ranks the top two performances by each team in every event, with 148.98 points. There is a distinct Midwest Regional flavor in the ranking as five of the top nine teams are from the Midwest. The College Conference of Illinois & Wisconsin is also well represented with four teams in the top 13. North Central is fifth, Illinois Wesleyan seventh, Carthage 11th and Augustana 13th.
The Vikings, who will compete this weekend at the Grinnell Invitational in Grinnell, Iowa, won the Sol Butler Invitational on January 12th to kick off the indoor season. They were also third at the Olivet Nazarene Invitational on January 26 and fifth at the Warhawk Invitational.
2013 NCAA DIVISION III INDOOR DUAL MEET POWER RANKINGS
Sponsored by the USTFCCA ** As of 02/07/2013 ** POLL #3
| | | | |
| --- | --- | --- | --- |
| RANK | SCHOOL | REGION | POINTS |
| | | | |
| 1. | Wisconsin-LaCrosse | Midwest | 148.98 |
| 2. | Ithaca | Atlantic | 144.45 |
| 3. | Wartburg | Central | 143.21 |
| 4. | Tufts | New England | 134.90 |
| 5. | North Central | Midwest | 134.60 |
| 6. | Massachusetts Institute of Technology | New England | 134.20 |
| 7. | Illinois Wesleyan | Midwest | 133.75 |
| 8. | Wisconsin-Whitewater | Midwest | 132.13 |
| 9. | Wisconsin-Eau Claire | Midwest | 131.17 |
| 10. | Ohio Wesleyan | Great Lakes | 128.95 |
| 11. | Carthage | Midwest | 128.37 |
| 12. | Wisconsin- Stevens Point | Midwest | 124.97 |
| 13. | AUGUSTANA | Midwest | 122.53 |
| 14. | St. Lawrence | Atlantic | 121.57 |
| 15. | Bates | New England | 119.49 |
| 16. | Williams | New England | 114.71 |
| 16. | Ohio Northern | Great Lakes | 99.01 |
| 17. | College of New Jersey | Atlantic | 114.33 |
| 18. | Washington | Midwest | 111.67 |
| 19. | Chicago | Midwest | 111.33 |
| 20. | Christopher Newport | South | 110.32 |