February 7, 2013
Wrestlers stay at 27th in NCAA poll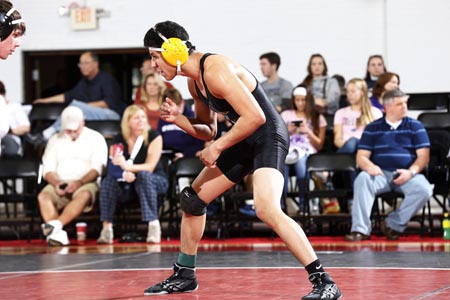 Sophomore Hector Ruiz has compiled a 22-13 record at 141 pounds for the 27th ranked Vikings.
Augustana, in the midst of its best season in almost 10 years, stayed in 27th in the most recent NCAA Division III national wrestling rankings. The Vikings of head coach Eric Juergens have compiled a dual meet record of 13-4 so far this year with a pair of dual matches on the horizon.

Three of the four losses came against ranked opponents. The Vikings lost to 26th ranked Dubuque 19-13 on November 14 and to number 23 Luther 24-12 on January 5. Second ranked Elmhurst beat Augustana 31-11 on January 31. The other loss came by a score of 27-12 on December 6 to a Central of Iowa team that was ranked in the top 20 at the time. The Vikings also have a 24-12 win over 28th ranked Cornell, which came on December 12.
Juergens will take his team to Chicago, Illinois on Friday, February 7 to face the University of Chicago, a team that Augustana defeated 25-15 on January 5. The last dual meet of the season will be on February 12 at Loras. After the Loras match, the Vikings will compete in the College Conference of Illinois & Wisconsin tournament on February 21 in Wheaton, Illinois and the NCAA Regional on March 2 in Dubuque, Iowa.
Three Augustana wrestlers are ranked individually in their respective weight classes. Junior Jacob Scholten (Rockford HS, Grandville, Mich.) is 11th at 126 pounds with a 33-5 overall record. Senior Matt Burns (Naperville Central HS, Naperville, Ill.) is 18th at 174 and sports a 29-6 mark. Junior All-American Jordan Richardson (Grandville HS, Wyoming, Mich.) is 25-7 and ranked 14th at 184 pounds.
If the Vikings can win their next two dual meets, they will finish with 15 victories for the first time since the 2003-04 team went 15-5. Last year Augustana was 11-4, giving Juergens' crew a 24-8 record over the last two seasons. Juergens is now in his sixth season as the Vikings' head coach and has a record of 44-44. After going 11-30 in his first three campaigns, his record over the last three is 33- 14.
Scholten leads the team in victories with 33 (33-5) while Burns is next with 29 (29-6). Sophomore John Schraidt (Riverside-Brookfield HS, Riverside, Ill.) has a 27-8 record at 285 while sophomore Kevin Sundberg (Paw Paw HS, Paw Paw, Mich.) is 26-14 at 157. Richardson, who is currently sidelined with an injury, is 25-7 at 184 and freshman Jimmy Panozzo (Carl Sandburg HS, Orland Park, Ill.) has posted a 24-12 record while alternating between 126 and 133 pounds. Sophomore Hector Ruiz (East Aurora HS, Aurora, Ill.) is the seventh Viking with at least 20 victories as he is 22-13 at 141.
2012-13 NCAA DIVISION III NATIONAL DUAL MEET RANKING
As compiled by the National Wrestling Coaches Association
| | | | |
| --- | --- | --- | --- |
| RANK | TEAM | DUAL RECORD | LAST RANKING |
| 1 | Wartburg | 17-0 | 1 |
| 2 | Elmhurst | 10-1 | 2 |
| 3 | Cortland State | 12-2 | 4 |
| 4 | Wisconsin-Whitewater | 12-2 | 13 |
| 5 | Wisconsin-La Crosse | 14-3 | 5 |
| 6 | Centenary | 7-3 | 3 |
| 7 | Wilkes | 14-3 | 8 |
| 8 | Delaware Valley | 6-1 | 9 |
| 9 | Olivet | 9-8 | 16 |
| 10 | Wisconsin-Stevens Point | 14-5 | 6 |
| 11 | Springfield | 6-2 | 23 |
| 12 | Wesleyan | 11-6 | 10 |
| 13 | Ithaca | 6-3 | 10 |
| 14 | Coe | 12-5 | 12 |
| 15 | York | 16-5 | 14 |
| 16 | Messiah | 10-4 | 15 |
| 17 | Ohio Northern | 14-2 | 18 |
| 18 | Johnson & Wales | 13-6 | 22 |
| 19 | College of New Jersey | 8-5 | 19 |
| 20 | New York University | 11-1 | 20 |
| 21 | St. John's | 8-4 | NR |
| 22 | Augsburg | 5-4 | 7 |
| 23 | Luther | 8-7 | 24 |
| 24 | Concordia (MN) | 5-5 | 17 |
| 25 | Wabash | 10-3 | 25 |
| 26 | Dubuque | 8-7 | 26 |
| 27 | AUGUSTANA | 13-4 | 27 |
| 28 | Cornell | 5-3 | 28 |
| 29 | Mount Union | 6-2 | 30 |
| 30 | Ursinus | 7-1 | NR |