February 6, 2013
Turnovers hurt Vikings in road loss to Wheaton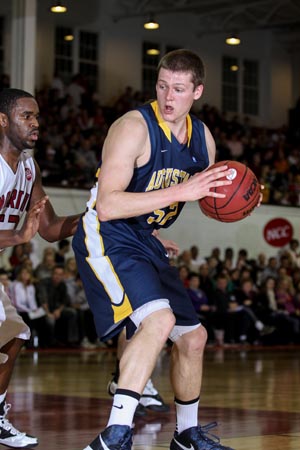 Brandon Kunz scored 12 points and had six rebounds in Augustana's 58-57 loss at Wheaton on Wednesday, February 6.
WHEATON, Ill. - Turnovers prevented Augustana from picking up a crucial road win on Wednesday, February 6 at King Arena in Wheaton, Illinois. The Vikings dropped a tough one-point 58-57 loss to Wheaton in College Conference of Illinois & Wisconsin action.

Augustana trailed by eight points (28-20) at halftime and were down by 10 (34-24 at 16:58) early in the second half. Fueled by huge 40-24 rebounding advantage, the Vikings climbed back into the game and when Danielius Jurgutis (Downers Grove South HS, Darien, Ill.) nailed a pair of free throws at 4:31 the lead was down to two (54-52). Wheaton got a basket by Brayden Teuscher at 4:11 to bump the advantage to four (56-52). Jurgutis responded with a three point basket at 3:43 to cut the lead to one (56-55).
Tyler Peters put the Thunder ahead 58-55 with two free throws at 2:38 but Ben Ryan (Washington HS, Washington, Ill.) hit two free throws at 1:34 to once again make it a one point game (58-57). That would be all the scoring for the night for either team.
Augustana shot .447 (21-47) from the floor and hit .813 (13-16) from the free throw line but were just two of nine from three point range. The Vikings also turned the ball over 17 times. They held Wheaton to just .400 (22-55) shooting from the field.
Brandon Kunz (Lake Zurich HS, Lake Zurich, Ill.) lead Augustana in scoring with 12 points while Jurgutis was also in double figures with 11. Ryan led the team in rebounding with 11 while Kunz grabbed six and Jurgutis and sophomore Brandon Thompson (Galesburg HS, Galesburg, Ill.) had five each.
Wheaton got 21 points from Tyler Peters and 16 from Nathan Haynes.
Augustana dropped to 16-6 overall and 6-5 in the CCIW while Wheaton moved to 17-5 and 7-4.