Five Questions with Denise Yoder
February  07, 2013
Five Questions is a series of profiles of people at Augustana College. Denise Yoder delivers the answers today. If you know someone you'd like to see profiled, send his or her name and a note to sharenews@augustana.edu.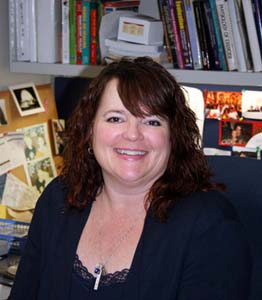 Denise Yoder, Augustana College's head athletic trainer. (Photo/Department of Athletics)
Denise Yoder serves as head athletic trainer for Augustana athletics. She earned her bachelor's degree from Augustana and her master's from Ohio University.
1. You have been described by local arts and entertainment critic, David Burke, as a prolific theatre veteran? Good or bad?
I think it's good. I've gotten to play a lot of different characters and I like it. I started in ancient Greek theatre productions with the Genesius Guild when I was in high school. I took a break during college and graduate school, but when I got back to the Quad Cities, I got involved in every performance and directing opportunity I could find.
2. There is a saying in show business,
"Dying is easy, but comedy is hard." Is comedy hard?
I think it is because you have to make sure you're not trying too hard. You have to remember that the character is often not supposed to think they are being funny. I am a very animated person by nature and my reactions are usually pretty large. I've been told that all I have to do is insert an eye roll at the right time to get a laugh.
3. What are the differences in common injuries you treat between male and female athletes?
Research shows that female athletes tend to incur ACL knee injuries more often than male athletes, but I think our coaches, trainers and strength and conditioning staff are have been using training techniques that are helping us keep those injuries to a minimum this year.
4. In recent years, there has been an increased focus on concussions among athletes.
How do you treat suspected concussions?
Anna Smith on our staff has done a lot of research on concussions and based on that research, we've established a new "return to play" program that includes some pretty detailed procedures, tests and interviews our athletes must complete before they are cleared to compete again.
5. Describe your service with the National Ski Patrol.
I get to ski, which I love, and the job is pretty similar to my role as an athletic trainer. I started volunteering when I was a student at Augie, and I've been involved ever since. I still need to complete a required outdoor treatment class, and then I'll be certified to treat injuries on the slopes. The class was offered last fall, but with a busy fall sports schedule and more than 700 student-athletes to serve, I didn't have the time.

Five Questions recently has featured: