February 6, 2013
Wall earns CCIW "Player of the Week" honor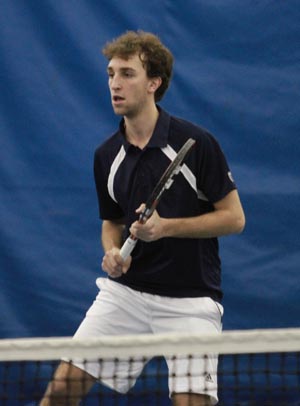 Junior Andy Wall was undefeated in the Vikings' opening weekend of the men's tennis season. He was selected as the "Player of the WEEK" in the College Conference of Illinois and Wisconsin.
Augustana junior Andy Wall (Notre Dame Academy, De Pere, Wis.) has been selected as the "Player of the Week" in the College Conference of Illinois & Wisconsin in men's tennis, it was announced today. Wall went undefeated in two victories for the Vikings, compiling a record of 4-0.

Two of Wall's four victories came from singles play. While playing at number four singles, Wall defeated Wabash's Mark Troiano (4-6, 6-4, 10-8) and then was victorious against Franklin's Ryan Hammer (6-3, 7-6(4)) while playing from the number two singles position.
Wall was also successful during his doubles play during this past week. While teaming up with Lawrence Palmer (Schiller International School, El Prat de Llobregat, Spain) in the number one doubles spot, they were able to defeat Wabash (8-5) and Franklin (8-2).
Wall is currently 2-5 in singles play on the season and 7-2 during doubles play. Wall has a record of 5-2 while teaming up with Colin Arnold (Sterling HS, Sterling, Ill.) and a perfect record of 2-0 when playing with Palmer. This is the first time in his career that Wall had been selected as the "Player of the Week" in the CCIW.
Wall was also a solid performer for the Vikings last season, as they finished 16-11. Wall finished that year with a record of 17-13 during singles play and a record of 16-13 during doubles action. Wall played all of his doubles matches with then senior Adam DeSimone (Bettendorf HS, Bettendorf, Iowa).
Andy is the son of Marvin and Carole Wall of De Pere, Wisconsin.