February 6, 2013
Men's swimming cracks NCAA top 50 ranking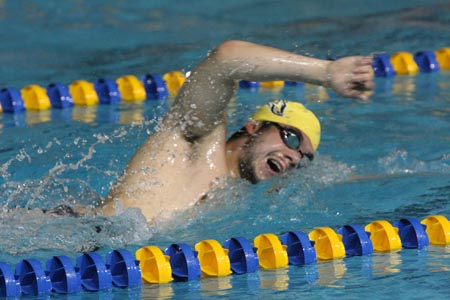 Senior captain Chris Greaves and the Augustana Vikings have moved into the top 50 in the NCAA Division III men's swimming & diving rankings for the first time this season.
After defeating Monmouth and falling to Western Illinois to go 1-1 at the Monmouth Double Dual on Saturday, February 2 in Monmouth, Illinois, the Augustana men's swimming team made its season debut in the NCAA Division III Swimming Rankings. The Vikings are ranked 46th in the most recent rankings release.

The top three of the rankings remain the same as the previous week. Williams currently leads NCAA Division III with 26.85 points while Massachusetts Institute of Technology is second with 29.52, and Kenyon sits in third with 32.26 points. Emory moves from fifth to fourth with 34.67 and Johns Hopkins falls from fourth to fifth with 35.37 points. The College of New Jersey (37.67), Claremont-Mudd-Scripps (41.00), Stevens Institute of Technology (42.00), Amherst (42.19) and Carnegie Mellon (46.22) make up the rest of the top 10.
This poll, sponsored by the Endless Polls and CollegeSwimming.com, is based on each team's top performances over the preceding month. For each meet an individual is ranked according to their percentile. These are then compiled into a team score, with a minimum of 27 swims necessary to calculate a team score.
Augustana, currently 5-1 in dual meets, started the season with a team victory at the Illinois Wesleyan Invitational on October 27 in Bloomington, Illinois, scoring 95 points to win the three-team event. On Friday, November 16 the Vikings defeated Monmouth in a dual meet at the Carver Center by a score of 162-63. The following day, the Augustana placed second at the Illinois Wesleyan Invite to then 17th ranked Washington University by a single point. The Vikings followed that up by finishing third at the Pioneer Classic in Grinnell, Iowa on Saturday, January 1. Augustana then put together a three meet winning streak by defeating Loras (158-73), Coe (183-29), and Luther (139-84) in dual meets. The Vikings next went to the Grinnell Invitational and took third in the seven team meet on January 18-19.
This weekend the Augustana divers will head to Bloomington, Illinois for the College Conference of Illinois and Wisconsin diving championships on Saturday, February 9. The rest of the swim team will compete in the CCIW Championships in Wheaton, Illinois on Thursday, February 14.
- Story written by student assistant Paul Hurd