February 2, 2013
Men's tennis opens with two wins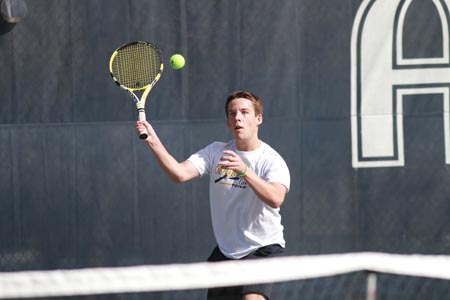 Grant Wick won two singles matches as Augustana defeated Wabash (7-2) and Fanklin (9-0) to open the dual meet portion of the 2013 season successfully.
CRAWFORDSVILLE, Ind. - Augustana successfully began the 2013 men's tennis season with a pair of victories on Saturday, February 2 at the Collett Tennis Center on the campus of Wabash College in Crawfordsville, Indiana. The Vikings beat Wabash 7-2 in the first match of the year and then came back and handled Franklin 9-0 in the second.

In the win over Wabash, Augustana took a 2-1 lead after doubles. Sophomore Lawrence Palmer (Schiller International School, El Prat de Llobregat, Spain) and junior Andy Wall (Notre Dame Academy, De Pere, Wis.) defeated Daniel Delgado and Mark Troiano at number one by a score of 8-4. Junior Kevin Bayles (Homewood-Flossmoor HS, Homewood, Ill.) and senior Jack Cullen (Edgewood HS, Madison, Wis.) beat Ian Leonard and Phil Kubisz at number three 8-6.
In singles play the Vikings were involved in four three-set matches and they won three of those. Lawrence Palmer beat Wade Miller 6-1; 4-6; 6-3 at number one. Senior Will Palmer (Schiller International School, Leicester, England) came from behind to defeat Nate Koelper at number three by a score of 3-6; 6-4; 6-2. Wall beat Troiano 4-6; 6-4; 10-8 at number four.
Bayles beat Leonard 6-4; 6-0 at number five and junior Grant Wick (Windsor HS, Fort Collins, Colo.) took care of Kubisz at number six 6-0; 6-0.
Second-year head coach Jon Miedema changed his lineup a bit for the Franklin match but the Vikings didn't miss a beat. Freshman Harald Olsson (Lidingo, Sweden) moved into the number one singles spot and he defeated Blake Wareham 6-2; 6-3. Wall had a tight match at number two before winning 6-3; 7-6 (7-4) over Ryan Hammer. Bayles jumped to the number three position and handled Jared Hunt 6-0; 6-2.
Wick won for the second time on the day with an 8-3 victory over Luke Snyder at number four. Cullen beat Robby Woehrle at number five 6-0; 6-1 and freshman Patrick Lenz (Villanova Prep School, Ojai, Calif.) won his collegiate dual meet debut by taking down Evan Pierle at number six 8-4.
Wall and Lawrence Palmer beat Wareham and Hammer 8-2 at number one doubles. Olsson and Will Palmer beat Hunt and Snyder 8-2 at number two and Bayles and Cullen defeated Woehrle and Pierle 8-1 at number three.
Augustana will host two opponents this Saturday at the Quad City Tennis Club in Moline, Illinois. The Vikings will take on St. Norbert at 9:00 a.m. and face Luther, under the direction of former Augustana head coach Adam Strand, at 3:00 p.m.
AUGUSTANA 7, WABASH 2
Singles
#1 - Lawrence Palmer (A) beat Wade Miller (W) 6-1; 4-6; 6-3
#2 - Daniel Delgado (W) beat Harald Olsson (A) 6-2; 6-7 (4-8); 6-4
#3 - Will Palmer (A) beat Nate Koelper (W) 3-6; 6-4; 6-2
#4 - Andy Wall (A) beat Mark Troiano (W) 4-6; 6-4; 10-8
#5 - Kevin Bayles (A) beat Ian Leonard (W) 6-4; 6-0
#6 - Grant Wick (A) beat Phil Kubisz (W) 6-0; 6-0
Doubles
#1 - L. Palmer/Wall (A) beat Delgado/Troiano (W) 8-4
#2 - Miller/Koelper (W) beat Olsson/W. Palmer (A) 8-4
#3 - Bayles/Jack Cullen (A) beat Leonard/Kubisz (W) 8-6
AUGUSTANA 9, FRANKLIN 0
Singles
#1 - Harald Olsson (A) beat Blake Wareham (F) 6-2; 6-3
#2 - Andy Wall (A) beat Ryan Hammer (F) 6-3; 7-6 (7-4)
#3 - Kevin Bayles (A) beat Jared Hunt (F) 6-0; 6-2
#4 - Grant Wick (A) beat Luke Snyder (F) 8-3
#5 - Jack Cullen (A) beat Robby Woehrle (F) 6-0; 6-1
#6 - Patrick Lenz (A) beat Evan Pierle (F) 8-4
Doubles
#1 - Wall/Lawrence Palmer (A) beat Wareham/Hammer (F) 8-2
#2 - Olsson/Will Palmer (A) beat Hundt/Snyder (F) 8-2
#3 - Bayles/Cullen (A) beat Woehrle/Pierle (F) 8-1
Augustana is now 2-0 on the season