February 3, 2013
Third ranked Vikings take fifth at Warhawk Invite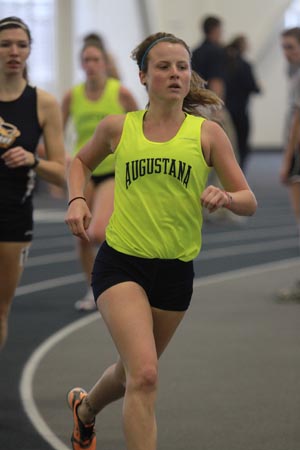 Junior Kelsey Stockert placed fifth in the 5000 with a time of 19:05.15 as third ranked Augustana placed fifth in the Warhawk Invitational in Whitewater, Wisconsin on Saturday, February 2.
WHITEWATER, Wis. - Senior Sarahbeth Jones (Warren Township HS, Wadsworth, Ill.) won the mile and Augustana had place winners in 13 events en route to a fifth place finish at the Warhawk Invitational on Saturday, February 2 in Whitewater, Wisconsin. The Vikings of veteran head coach Fred Whiteside, currently ranked third in the latest NCAA Division III Power Rankings, scored 72 points in the eight-team field.

Wisconsin-Oshkosh won the meet with 169 points while Wisconsin-Whitewater was second with 117. Chicago (82), North Central (76) and Augustana (72) waged a tight battle for the next three slots. St. Norbert (59), Wisconsin (50) and Loras (35) rounded out the field.
Jones took first in the mile with a time of 5:07.92 and was the lone individual event winner for the Vikings. Her sophomore teammate Jessica Bacon (Rock Island HS, Rock Island, Ill.) was fourth in 5:11.42.
Junior Kierra Smith (Creston HS, Creston, Iowa) had a busy afternoon, taking second in the 60 hurdles (:09.42) and third in the 400 (1:00.31) and running the leadoff leg on the 1600 relay team which placed sixth in 4:11.19. She was joined on that unit by junior Kate Benge (Pleasant Valley HS, Bettendorf, Iowa), freshman Annie Martines (St. Charles HS, St. Charles, Ill.) and freshman Ashley Jensen-Anderson (Rock Island HS, Rock Island, Ill.). Benge also finished third in the 800 with a time of 2:21.34.
The 800 relay of Martines, freshman Kayla Bushey (Luther North HS, Chicago, Ill.), senior Lauren Hoffman (Wheaton North HS, Winfield, Ill.) and Jensen-Anderson took third in 1:51.30. The distance medley relay with junior Kristyn Barton (York HS, Elmhurst, Ill.), Benge, senior Kirstillyn Pohlman (Zion-Benton HS, Winthrop Harbor, Ill.) and sophomore Lizzie Lundine (Willowbrook HS, Villa Park, Ill.) finished fourth in 13:02.73.
Junior Taelar Hillyer (Rock Island Alleman Catholic HS, Bettendorf, Iowa) cleared 11' 1 ¾" to take fourth in the pole vault. Junior Kelsey Stockert (Peoria Notre Dame HS, Mapleton, Ill.) was fifth in the 5000 with a time of 19:05.15. Sophomore Astin Moravek (Riverside-Brookfield HS, Riverside, Ill.) placed in two events, taking fifth in the triple jump (33' 10") and seventh in the long jump (16' 3").
Junior Johanna Schnitzler (Downers Grove South HS, Woodridge, Ill.) was sixth in the high jump with a clearance of 4' 10 ½". Freshman Hana Lobsinger (Wheaton-Warrenville South HS, Wheaton, Ill.) finished seventh in the 5000 in a time of 19:37.75. Senior Jennifer Prazak (Naperville North HS, Naperville, Ill.) placed eighth in the 800 in 2:26.85 and junior Liana Beauchamp (Genoa-Kingston HS, Kingston, Ill.) was eighth in the weight throw with a toss of 48' 5 ½".
Augustana will compete in the Grinnell Converse Invitational on Saturday, February 9 in Grinnell, Iowa.