February 2, 2013
Viking men split at Monmouth duals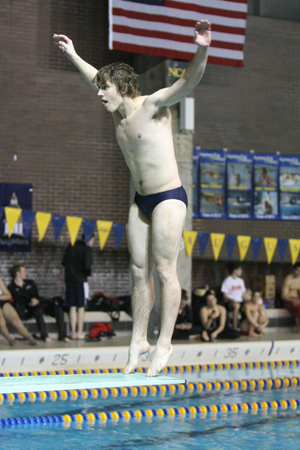 Augustana sophomore Josh Wielenga won the one-meter diving competition Saturday at Monmouth College.
Monmouth, Ill.-Four Augustana swimmers and sophomore diver Josh Wielenga (School of Environmental Studies, Apple Valley, Minn.) claimed wins Saturday as the Vikings competed at Monmouth College. The meet, which involved Western Illinois as well as Augustana and the host Scots, was scored as two dual contents. The Vikings came away a 90-39 winner over Monmouth and fell to WIU by a score of 76-51 and are now 5-1 in dual competition this season.

Wielenga won the one-meter diving competition with 199.15 points. Other winners for Augustana included junior Daniel Hinck (Harlem HS, Loves Park, Ill.), who took the 200 freestyle in 1:47.67; sophomore Aaron Holt (Mt. Vernon HS. Mt. Vernon, Ill.), with a :54.98 in the 100 backstroke; freshman David Sommers (Westlake HS, Thousand Oaks, Calif.), who won the 200 butterfly in 1:59.62 and junior Justin Reppy (Oswego HS, Oswego, Ill.), with a 4:56.81 in the 500 freestyle.
Reppy, Holt and Sommers each claimed second-place finishes as well. Reppy took second in the 1000 freestyle with a time of 10:29.85. Junior Austin Zarbuck (Urbana HS, Urbana, Ill.) and Alexander Putz (Oak Forest HS, Oak Forest, Ill.) were fourth and fifth, respectively, with times of 11:00.06 and 11:38.05. Holt's :22.84 earned him a second-place finish in the 50 freestyle, while Hinck was fifth in :23.32. Sommers' clocking of :54.69 in the 100 butterfly was also good for second place with Putz finishing fifth in 1:01.22.
Freshman Kyle Johnson (Shadow Valley HS, Phoenix, Ariz.) garnered a second (:57.59) behind Holt in the 100 backstroke, while classmate Austin Small (Morris HS, Morris, Ill.) was fifth in :59.88. Two more freshmen, Felipe Hernandez (United Township HS, East Moline, Ill.) and Adam Bernardi (Boylan Catholic HS, Belvidere, Ill.) were second and fifth, respectively in the 100 breaststroke. Hernandez finished in 1:05.00, while Bernardi clocked in at 1:06.22. Hernandez's 2:05.48 in the 200 individual medley was good for second as well.
Holt led off the second-place Viking 200 freestyle relay with senior Christopher Greaves (Morris HS, Morris, Ill.), sophomore Michael Duy (Marmion Academy, Aurora, Ill.). Hinck anchored the unit, which finished in 1:29.59.
Duy (1:50.06) was third behind Hinck in the 200 freestyle. Greaves (2:05.09) and Putz (2:15.81) were third and fourth, respectively, behind Sommers in the 200 butterfly. Hinck (:50.00) and Duy (50:85) were third and fourth in the 100 freestyle. Holt (2:03.20) and Greaves (2:05.13) were third and fifth in the 200 backstroke and Hernandez (2:25.42) and junior Ryan Chaney (Pleasant Valley HS, Bettendorf, Iowa) (2:32.10) were fourth and fifth in the 200 breaststroke. Zarbuck swam a 5:18.26 to take fourth behind Reppy in the 500 freestyle.
Johnson, Hernandez, Sommers and Greaves comprised the Augustana 200 medley relay team that finished fifth in 1:44.17.
Coach Scott Johannsen's Vikings will be competing in the upcoming CCIW championships. The diving competition takes place in Bloomington, Illinois on Saturday, February 9, while the swimming events will be held in Wheaton, Illinois on Thursday, February 14.