February 2, 2013
Vikings fall to Carthage 67-46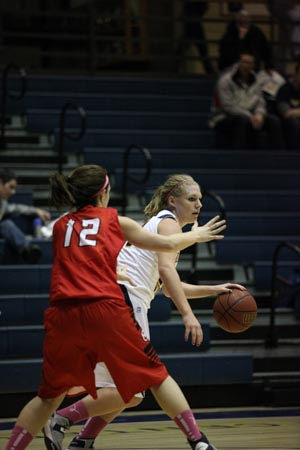 Amy Hicks scored 10 points with three rebounds and three assists during Augustana's 67-46 loss at home to Carthage on Saturday, February 2.
ROCK ISLAND, Ill. - League leading Carthage defeated Augustana 67-46 in College Conference of Illinois & Wisconsin action on Saturday, February 2 in the Carver Center. The Lady Reds shot .500 (25-50) for the game while the Vikings struggled with just .321 (17-53) shooting.

Augustana jumped out to a quick 5-0 lead in the first two minutes of the game but Carthage scored the game's next 17 points to go in front 17-5 and the lead never dropped below double digits after that. The Vikings managed to cut the margin to 11 points (31-20) at halftime but the Lady Reds scored the first seven points of the second half to charge in front 38-20.
Amy Hicks (Rockford Christian HS, Rockford, Ill.) and Jessica Baids (West Chicago HS, Carol Stream, Ill.) each scored 10 points to lead Augustana. The Vikings did manage to outrebound the visitors 35-31 with Gianna Pecora (Downers Grove South HS, Darien, Ill.) pulled down a team high six. Kayla Boers (Oswego East HS, Oswego, Ill.) had five and Valerie VanRoeyen (Libertyville HS, Grayslake, Ill.) was credited with four. Andrea McNally (Hinsdale South HS, Burr Ridge, Ill.) led the team with four assists.
Cailee Corcoran led Carthage in scoring with 18 points as the Lady Reds had four players in double figures.
Augustana falls to 7-14 overall and 3-8 in the CCIW while Carthage is 18-3 and 10-0.