February 2, 2013
Scholten 4th, Vikings 19th at Wheaton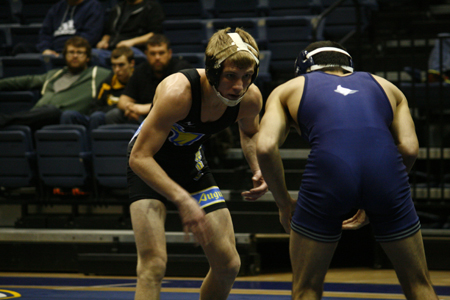 Junior 125-pounder Jake SCholten captured fourth place Saturday at the Pete Willson Invitational in Wheaton, Illinois.
WHEATON, Ill. - Junior Jake Scholten (Rockford HS, Grandville, Mich.) took fourth place at 125 pounds Saturday to lead coach Eric Juergens' Augustana wrestlers to a 19th-place team finish at Wheaton's Pete Willson Invitational. Scholten was the only Viking to place at the two-day, 29-team event, which was won by Wisconsin-Parkside.

Scholten opened on Friday with a 19-3 technical fall over Brad Kress of Mt. Union. He pinned Lakeland's Grant Franson in 1:34 and claimed a 6-1 decision over Jerome Pasquale of Ohio Northern to reach Saturday's semifinal round.
Facing Trine's Brandon Preston, Scholten suffered a 6-5 setback in the semis. He bounced back with a 4-1 win over Nicolas Santos of North Central to reach the third-place match, where he fell 5-3 to Isaac Balsiger of Wisconsin-LaCrosse. Scholten is now 33-5 on the season.
Augustana 165-pound sophomore Connor Cummings (Downers Grove North HS, Woodridge, Ill.) recorded the fastest fall of the tournament with a 31-second pin of Manchester's Bryce Roberts in wrestlebacks.
UW-Parkside's 151.5 points easily outdistanced second-place Messiah, who totaled 105. UW-LaCrosse (87), UW-Whitewater (84.5) and Olivet (76) rounded out the top five. With 36.5 points, Augustana tied with Wabash for 19th.
On Friday, February 8, the Vikings travel to Chicago, Illinois to face the University of Chicago in a dual meet scheduled for 7:00 p.m. The Maroons finished 15th at Wheaton with 45.5 points.