February 1, 2013
Rindone, 1600 relay score wins at UW-Whitewater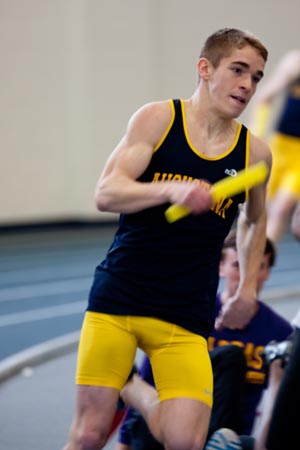 Keith Cline handled the third leg on the Vikings' winning 1600 relay team which recorded a time of 3:18.64 in winning at the Squig Converse Invitational on Friday, February 1. He also placed second in the 200 with a time of :23.31.
WHITEWATER, Wisconsin - Sprint strength led the way for the third ranked Augustana men's track & field team at the Leonard "Squig" Converse Invitational on Friday, January 31 at the University of Wisconsin-Whitewater. The Vikings placed fifth in the loaded nine-team field with 66.50 and it was the sprinters that hauled in the majority of the points.

Senior Alex Rindone (Marmion Academy, Geneva, Ill.) continued his torrid winter by helping account for the only two events won by the Vikings. He led a one-two Augustana sweep in the 200 and ran the second leg on the victorious 1600 relay. In the 200 he matched his own school record, set last week at Olivet Nazarene, with a winning time of :22.02. Finishing right behind Rindone was sophomore Keith Cline (Byron HS, Byron, Ill.) with a clocking of :22.31.

Rindone then teamed with senior Greg Patton (Bloomington HS, Bloomington, Ill.), Cline and sophomore David Voland (Batavia HS, Batavia, Ill.) to win the 1600 relay with a time of 3:18.64. That is the third fastest time recorded so far this year in NCAA Division III.

Patton placed third in the 400 with a time of :49.90 and Voland took fourth in the 60 meter hurdles in :08.59.

The 800 meter relay team of freshman Ben Damisch (Burlington Central HS, Maple Park, Ill.), junior Jay Graffagna (Geneva HS, LaFox, Ill.), sophomore Rob McNeil (Bloomington Central Catholic HS, Normal, Ill.) and senior Floyd Mays (Mooseheart HS, Justice, Ill.) finished third with a time of 1:35.19. The distance medley team of sophomore Keegan Buttimer (Riverside-Brookfield HS, Riverside, Ill.), junior Jared Spivey (Annawan HS, Annawan, Ill.), senior Joe Zahn (Moline HS, Moline, Ill.) and freshman Dan Popek (Minooka HS, Minooka, Ill.) placed fourth in 10:48.13.

Junior Justin Davidson (Galesburg HS, Galesburg, Ill.) cleared 6' 3 ¼" for a fourth place finish in the high jump. Junior Tyler Busch (Winnebago HS, Winnebago, Ill.) was fourth in the 3000 in 8:56.86 and freshman Ethan Koch (Prospect HS, Mount Prospect, Ill.) was seventh in 9:05.29. Senior Dennis O'Flaherty (Carl Sandburg HS, Orland Park, Ill.) placed seventh in the mile in 4:23.43.

Augustana will compete in the Grinnell Invitational on Saturday, February 9 in Grinnell, Iowa.