January 31, 2013
Lori Anderson hired as assistant trainer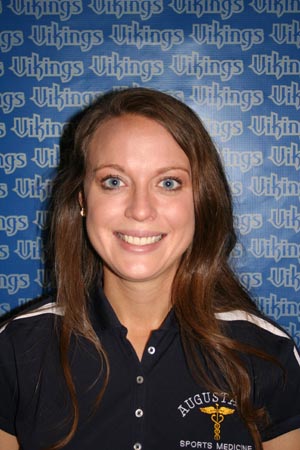 Lori Anderson has been named assistant athletic trainer for the Vikings.
Lori Anderson was recently named the assistant athletic trainer at Augustana, it was announced by Mike Zapolski, director of athletics. She moves into the spot that was previously held by Denise Yoder, who was promoted to the head athletic trainer's position.

Anderson, a graduate of University of Iowa in 2008 with a Bachelor's of Science degree in athletic training, received her Master's of Science in recreation, parks, and tourism administration at Western Illinois University in 2011. She is currently working on obtaining her Master's of Science in kinesiology, also at Western Illinois.
Working with both collegiate and medical backgrounds, Anderson brings plenty of experience to Augustana that will continue to strengthen aid to student athletes. She showed interest in athletic training at an early age, where she worked as a student athletic trainer at Iowa University. Post graduation, Anderson moved to the Quad Cities where she worked as the athletic trainer at the Rock Valley Physical Therapy Clinic. She then entered back in the college environment, moving to Arkansas State University where she was specifically responsible for athletic evaluations for ROTC cadets.
She furthered her athletic training career at Black Hawk College, Hammond Henry Hospital, and then back to Western Illinois University, where she also worked as an employee wellness intern. She leaves behind four years of work as the athletic trainer at Genesis Health Systems. Anderson served as a leased-member of the Augustana training staff for the last two years. She worked mostly with football and men's and women's lacrosse.
Anderson will join a staff that includes Yoder and assistant trainer Anna Smith. The three spearhead an athletic training department that provides service to 23 varsity sports with over 700 NCAA athletes.
Story written by student assistant Cody Sharko