January 31, 2013
Student Athlete Advisory Committee stays active in winter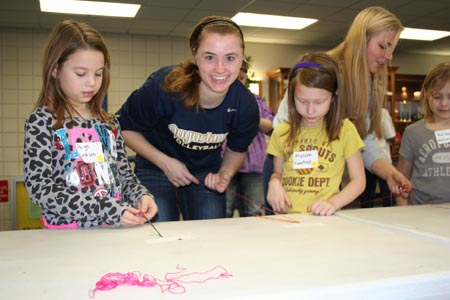 Sophomore Amber Dalgaard, a member of the Vikings' volleyball team, helps out at the S.A.A.C. event in the PepsiCo Center in January.
The Student Athlete Advisory Committee (SAAC) at Augustana had a busy and productive month of January. The SAAC group is connected with the athletic department and each varsity team is represented. Sara Tisdale, the head women's lacrosse coach, serves as the sponsor of SAAC and senior women's golfer Megan Vandersee (Sterling HS, Sterling, Ill.) is the organization's president.

Members from women's teams of soccer, golf, tennis, volleyball, lacrosse and softball volunteered at a team day on Saturday, January 19. It was a joint effort between the Eastern Iowa/Western Illinois Girl Scouts and SAAC, bringing together over 50 girl scouts in the PepsiCo Recreation Center on the Augustana campus. Girls between second and fifth grade took the opportunity to rub shoulders with Viking athletes.
They participated in team building activities with the softball players and made "power bracelets" with the volleyball team. The girls went through skill sessions with lacrosse, softball, tennis and golf.
Later that evening the SAAC rolled out a fund-raising activity at the Augustana basketball double header with Elmhurst that raised over $500.00 for a local family that lost its home to a fire just after Christmas.
This past fall SAAC sponsored a road-side cleanup in Rock Island and this spring will be involved in the "Polar Plunge" that will benefit Special Olympics.