January 31, 2013
Women's track & field now third in NCAA rankings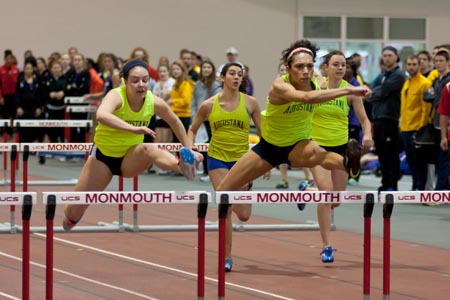 The Vikings are now ranked third in the latest NCAA Division III indoor track & field power rankings.
Augustana started the season ranked fourth in the NCAA Division III indoor track & field rankings released by the United States Track & Field and Cross Country Coaches Association. This week the Vikings jumped up one spot to third as they bettered their point total by over 10 points.

Augustana checks in this week with 120.85 points after a tremendous performance last week at the Olivet Nazarene Invitational where veteran head coach Fred Whiteside's team set two new school records and finished third in the team standings.
Ithaca is the NCAA Division III leader with 136.50 points while North Central is second with 122.40 and the Vikings less than two points behind (120.85) in third. Illinois Wesleyan is fourth (120.65) and Wisconsin-Stevens Point fifth (118.82). Ohio Wesleyan (118.22), M.I.T. (115.47), Bates (114.99), Williams (114.71) and St. Lawrence (114.71) round out the top 10.
The Vikings opened up the season with a team win at the Dubuque Open and then traveled to the Monmouth Invite where they brought home seven event winners. This weekend the Vikings will travel to the Warhawk Invitational on Saturday, February 2 in Whitewater, Wisconsin.
2013 NCAA DIVISION III INDOOR DUAL MEET POWER RANKINGS
Sponsored by the USTFCCA ** As of 01/30/2013 ** POLL #2
| | | | |
| --- | --- | --- | --- |
| RANK | SCHOOL | REGION | POINTS |
| | | | |
| 1. | Ithaca | Atlantic | 136.50 |
| 2. | North Central | Midwest | 122.40 |
| 3. | AUGUSTANA | Midwest | 120.85 |
| 4. | Illinois Wesleyan | Midwest | 120.65 |
| 5. | Wisconsin- Stevens Point | Midwest | 118.82 |
| 6. | Ohio Wesleyan | Great Lakes | 118.22 |
| 7. | M.I.T. | New England | 115.47 |
| 8. | Bates | New England | 114.99 |
| 9. | Williams | New England | 114.71 |
| 10. | St. Lawrence | Atlantic | 112.78 |
| 11. | Washington | Midwest | 111.67 |
| 12. | College of New Jersey | Atlantic | 111.56 |
| 13. | SUNY-Oneonta | Atlantic | 110.25 |
| 14. | Christopher Newport | South | 106.13 |
| 15. | Rensselaer Polytechnic Institute | Atlantic | 101.71 |
| 16. | Ohio Northern | Great Lakes | 99.01 |
| 17. | Lynchburg | South | 98.01 |
| 18. | Southern Maine | New England | 97.14 |
| 19. | St. Norbert | Midwest | 93.11 |
| 20. | Moravian | Mideast | 92.20 |