January 30, 2013
Vikings can't hang on against 12th-ranked IWU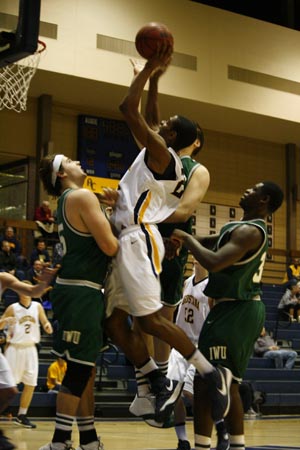 Freshman Tayvian Johnson came off the Augustana bench for 10 points Wednesday night, but the Vikings fell 71-65 to 12th-ranked Illinois Wesleyan at Carver Center.
ROCK ISLAND, Ill. - 12th-ranked Illinois Wesleyan closed the game on a 28-6 run Wednesday night, erasing a 16-point deficit to pull out a 71-65 win over Augustana at Carver Center. The Titans improve to 17-3 overall and 9-0 in the CCIW, while the Vikings fall to 15-5 on the year and 5-4 in the league.

A Jawan Straughter (Plainfield East HS, Bolingbrook, Ill.) three-pointer with 9:31 left in the game finished off an 8-0 Augustana run and put the Vikings up 59-43. After an IWU timeout, Titan guard Dylan Overstreet scored two of his game-high 20 points to start his team's closing run. Andrew Ziemnik's three-pointer from the right wing with 3:14 left gave the visitors their first lead of the game at 64-63.
Augustana jumped out to a 7-2 lead to start the contest. A Tayvian Johnson (United Township HS, East Moline, Ill.) bucket with 10:12 to go in the first half gave the Vikings an 18-10 advantage, their largest of the opening stanza. After IWU cut the lead to 32-30, Augustana scored the final three points of the half to go up 35-30 at the break.

Two free throws by Johnson with 15:28 remaining gave the Vikings their first double-digit lead at 45-35 and Straughter's trey four minutes later gave Augustana its largest lead before IWU mounted its comeback. Overstreet had 10 points and Ziemnik nine over the final nine and a half minutes.
Brandon Kunz (Lake Zurich HS, Lake Zurich, Ill.) led the Vikings with 16 points and grabbed six boards. Johnson joined him in double figures with 10 points. Ben Ryan (Washington HS, Washington, Ill.) had a game-high eight rebounds to go along with nine points. Ziemnik added 18 points and eight rebounds for the Titans.
IWU shot 70 (14 of 20) percent from the field in the second and .531 (26 of 49) for the game. The Vikings were 21 of 56 (.375) from the floor. Augustana had a 36-34 advantage on the glass and turned it over 12 times to 16 for the Titans.
Augustana falls into a tie for fourth-place in the CCIW with Carthage, whom the Vikings host on Saturday, February 2 at 7:00 p.m.