January 30, 2013
Vikings fall at Wheaton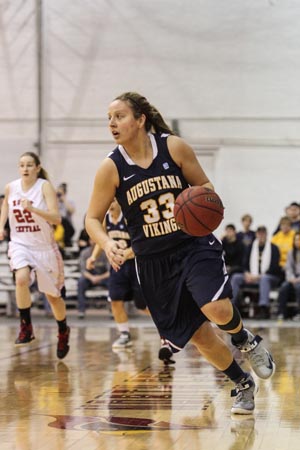 Maddie Kerr scored eight points and had an assist and a steal as Augustana fell at Wheaton 82-45 on Wednesday, January 30.
WHEATON, Ill. - Augustana fell to Wheaton 82-45 in College Conference of Illinois & Wisconsin action on Wednesday, January 30 at King Arena in Wheaton, Illinois. The Vikings managed to connect on just .322 (19-59) of their shots from the floor and were outrebounded 47-29.

Wheaton led by six points (28-22) with 5:59 left in the first half after Augustana's Amy Hicks (Rockford Christian HS, Rockford, Ill.) scored a basket off an assist by Jessica Baids (West Chicago HS, Carol Stream, Ill.). The Vikings scored just two points the rest of the half as the Thunder closed out with a 14-2 run to take a 42-24 advantage into the locker room at intermission.
Things didn't get a whole lot better in the second half as Wheaton opened with a 21-7 run and with 7:28 left the score was 63-31.
Augustana shot just .267 (8-30) in the second half after hitting .379 (11-29) in the first.
Hicks led the Vikings in scoring with nine points and she pulled down five rebounds. Kayla Boers (Oswego East HS, Oswego, Ill.) led the team in rebounding with six. Freshman Maddie Kerr (Elgin St. Edward's Catholic HS, Streamwood, Ill.) dropped in eight points in a losing cause.
Wheaton put four players in double figures with Breanna Bohlen leading the way with 15. Brooke Olson, Hannah Considine and Lauren Graham each had 12 points. Ellie Zeller led the Thunder in rebounding with eight and Maris Hovee had a game-high seven assists.
Augustana falls to 7-13 overall and 2-7 in the CCIW while Wheaton is 16-3 and 7-2.