January 29, 2013
27th ranked Vikings fall to #2 Bluejays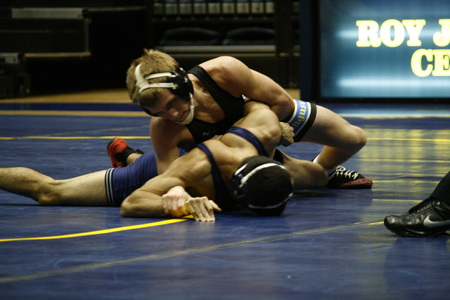 Jacob Scholten ran his record to 29-3 with a 22-7 victory over Miguel Venecia of Elmhurst at 125 pounds on Tuesday, January 29 in the Carver Center. The Vikings, ranked 27th in NCAA Division III, fell to the number two Bluejays by a score of 31-11.
ROCK ISLAND, Ill. - Augustana, ranked 27th in the nation in NCAA Division III, fell to number two Elmhurst by a score of 31-11 in a College Conference of Illinois & Wisconsin dual meet on Tuesday, January 29 in the Carver Center. The Vikings fell to 13-4 on the season while the Bluejays are now 10-1.

Junior Jacob Scholten (Rockford HS, Grandville, Mich.) started the match with a 22-7 win over Miguel Venecia at 125 pounds. Venecia took Scholten down to start things off but Scholten eventually escaped and dominated the rest of the way. He is now 29-3 on the season.
The Vikings got a win at 149 pounds from sophomore Walter Piech (Lincoln-Way East HS, Mokena, Ill.) by a score of 7-6 over Jim Spangler. Piech is now 18-10 for the year.
Sophomore John Schraidt (Riverside-Brookfield HS, Riverside, Ill.) closed things out with a 6-4 win over Jack Lewis at 285 pounds. Schraidt now sits at 24-6 this season.
Augustana will compete in the Wheaton Invitational on Friday, February 1 and Saturday, February 2 in Wheaton, Illinois.
Tuesday, January 29, 2013
Carver Center *** Augustana College *** Rock Island, Illinois
Elmhurst 31, Augustana 11
125 - Jacob Scholten (A) beat Miguel Venecia (E) 22-7
133 - Dalton Bullard (E) pinned Jimmy Panozzo (A) @ :59
141 - Ryan Early (E) beat Hector Ruiz (A) 8-0
149 - Walter Piech (A) beat Jim Spangler (E) 7-6
157 - Nick DiNardo (E) beat Kevin Sundberg (A) 3-0
165 - Yousef Al-Ghoul (E) beat Connor Cummings (E) 4-1
174 - Danny Balderas (E) beat Matt Burns (A) 7-6
184 - Joe Rau (E) pinned Thomas Reyhons (A) @ 1:09
197 - Mike Benefiel (E) pinned Jake Melik (A) @ :52
285 - John Schraidt (A) beat Jack Lewis (A) 6-4
Elmhurst (10-1) is ranked 2nd in NCAA Division III while Augustana (13-4) is 27th.