January 29, 2013
Men's track & field ranked fourth in NCAA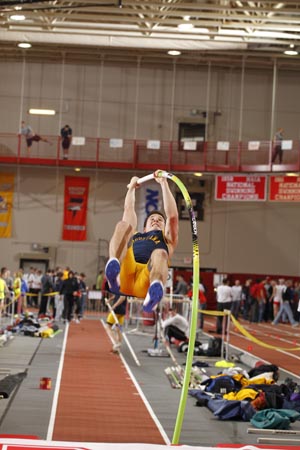 Pole vaulter Colton Vankirk and the Augustana Vikings are ranked fourth in the first NCAA DivisionIII Indoor Track & Field power rankings compiled by the US Track & Field/Cross Country Coaches Association.
Augustana is ranked fourth in the first NCAA Division III Dual Meet Power Rankings according to the US Track & Field and Cross Country Coaches Association (USTFCCCA). The Vikings recorded a point total of 121.10 points after the first week of competition, trailing Bates (141.38), North Central (136.91) and M.I.T. (128.85).

This poll, conducted by the U.S. Track & Field and Cross Country Coaches Association, quantifies the depth of each team. The team's total score is the sum of all points earned in each event. Two individual athletes are scored per event, as well as one relay team.
The points are based on the best marks of an event in the current season, with the faster times and farther distances worth more.
A year ago the Vikings of head coach Paul Olsen finished the indoor season ranked fifth in NCAA Division III with 157.78 points. Augustana was ranked as high as second during the second week of the rankings in 2012. The Vikings have never finished lower than eighth in final year-end rankings since the USTFCCCA starting compiling them in 2008.
Augustana started the season with a team victory in the Sol Butler Invitational on January 12 in Dubuque, Iowa, scoring 187.5 points to win the five-team event. On Saturday, January 19 the Vikings competed in the Midwest Invitational in Monmouth, Illinois and won seven events although there were no team scores. Last weekend, on Friday, January 25 and Saturday, January 26, Augustana went to the Olivet Nazarene Invitational and tied for first with the host Tigers in the eight-team event as both teams scored 163 points.
This weekend the Vikings will head to Whitewater, Wisconsin for the Warhawk Invitational on Friday, February 1.
2013 NCAA DIVISION III INDOOR DUAL MEET POWER RANKINGS
Sponsored by the USTFCCAAs of 01/23/13 POLL #1
| | | | |
| --- | --- | --- | --- |
| RANK | SCHOOL | REGION | POINTS |
| 1. | Bates | New England | 141.38 |
| 2. | North Central | Midwest | 136.91 |
| 3. | Massachusetts Institute of Technology | New England | 128.85 |
| 4. | Augustana | Midwest | 121.10 |
| 5. | Christopher Newport | South | 119.48 |
| 6. | Illinois Wesleyan | Midwest | 116.43 |
| 7. | Nebraska Wesleyan | Central | 113.89 |
| 8. | Wabash | Great Lakes | 112.07 |
| 9. | Rensselaer Polytechnic Institute | Atlantic | 108.10 |
| 10. | Moravian | Mideast | 96.76 |