January 28, 2013
Vikings pick up road win at Aurora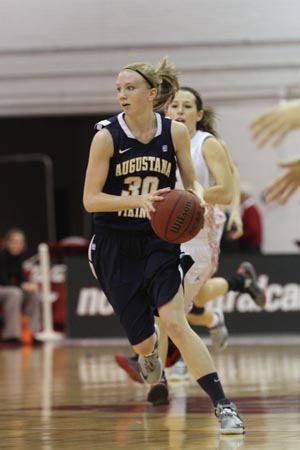 Andrea McNally had four assists on Monday night in just her third starting assignment of the season as Augustana picked up a 70-63 road victory at Aurora in a non-conference game.
AURORA, Ill. - Augustana used a 14-6 run that started in the middle of the second half to secure a 70-63 non-conference victory over Aurora on Monday, January 28 at Thornton Gymnasium in Aurora, Illinois. This contest, which was originally scheduled for December 20 but was postponed due to snow, was tied at 44 with 11:10 left in the game.

That was the point in the game where first year head coach Mark Beinborn's squad began a 14-6 run which proved to be the difference in the contest.
Augustana actually trailed 44-42 after a basket by Aurora's Ciara Marlow at the 11:47 mark. Senior Gianna Pecora (Downers Grove South HS, Darien, Ill.) tied the game with a basket at 11:10. Aurora was called for a personal foul on the play and a technical foul and the Vikings' Valerie VanRoeyen (Libertyville HS, Grayslake, Ill.) hit three straight free throws to give the visitors a 47-44 advantage. All that happened with 11:10 still on the clock.
On the next possession Augustana's Jessica Baids (West Chicago HS, Carol Stream, Ill.) blocked a shot by Marlow and momentum started to swing to the Vikings. Maddie Kerr (Elgin St. Edward's Catholic HS, Streamwood, Ill.) nailed a three point field goal at 10:21 and Kayla Boers (Oswego East HS, Oswego, Ill.) scored at 8:56 to push the margin to six points (52-46). Eventually a three point basket by Molly Etheridge (Normal Community HS, Bloomington, Ill.) would give Augustana an eight point lead (58-50) with 2:46 left.
Etheridge hit another three at 2:22 to make it a nine point lead (61-52) and she scored at 1:49 to make it 63-54 and at 1:20 to push the margin to 11 (65-54). For good measure she added two free throws with :29 left to bump the margin back up to seven (67-60).
In the final 1:09 of play the Spartans connected on four three point field goals to keep the game interesting but the Vikings made just enough free throws to come away with the win.
Baids led the team in scoring with 21 points as she connected on seven of eight from the floor, including her only three point attempt, and six of eight from the free throw line. She also hauled in nine rebounds and had a blocked shot. Etheridge scored 15 points on five of seven from the floor, with three of three from three point range and two of three from the free throw line. She pulled in five rebounds and had five assists and two steals.
Augustana enjoyed a 44-36 advantage in rebounding and shot .440 (22-50) from the field, including .462 (12-26) in the second half. Andrea McNally (Hinsdale South HS, Burr Ridge, Ill.) contributed four assists and Pecora had three steals. Marissa Pezzopane (Addison Trail HS, Wood Dale, Ill.) scored six points with four rebounds as she continues to make a comeback from a foot injury. Boers had eight points and six rebounds and Amy Hicks (Rockford Christian HS, Rockford, Ill.) chipped in with six points and six rebounds.
Aurora was led in scoring by Shay Jenkins with 19 points. The Vikings are now 7-12 on the season and will play at Wheaton on Wednesday, January 30 at 7:30 p.m. Aurora fell to 7-13.