January 26, 2013
Two school records fall at ONU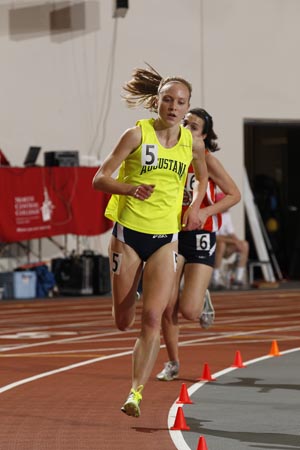 Senior Sarahbeth Jones set a school record in the 3000 and anchored the Viking 4x800 relay, which also set a new school mark Saturday at the NAIA vs. NCAA DIII Challenge in Bourbonnais, Illinois.
BOURBONNAIS, Ill.-Senior Sarahbeth Jones (Warren HS, Glen Allen, Va.) set a new school record in the 3000 and teamed with sophomore Jessica Bacon (Rock Island HS, Rock Island, Ill.), junior Kate Benge (Pleasant Valley HS, Bettendorf, Iowa) and senior Jennifer Prazak (Naperville North HS, Naperville, Ill.) to record a new Augustana standard in the 4x800 relay Saturday at the NAIA vs. NCAA DIII Challenge at Olivet Nazarene University. The Vikings won both of those events and two others to finish third in an eight-team field.

Jones won the 3000 in 10:14.66, taking down the previous school record of 10:15.27 set by Susan Paige in 1999. She also anchored the Vikings' 3200 relay unit, which won with a time of 9:31.21, bettering the 9:38.13 run by Maegan Harris, Stacey Green, Pam Anderson and Jennifer Walsh in 1998. Augustana also got wins from juniors Kierra Smith (Creston HS, Creston, Iowa) in the 400 (1:00.48) and Taelar Hillyer (Alleman HS, Bettendorf, Iowa), who tied Aquinas' Alicia Dorko for the pole vault title with a mark of 11' 3¾".
The Viking 4x400 relay team of Smith, Benge, freshman Annie Martines (St. Charles East HS, St. Charles, Ill.) and junior Johanna Schnitzler (Downers Grove South HS, Woodridge, Ill.) took second place with a 4:10.08.
Benge (2:21.02) and Bacon (2:23.79) were third and fifth, respectively, in the 800 as were Schnitzler (2,707) and senior Lauren Hoffman (Wheaton North HS, Winfield, Ill.) (2,500) in the pentathlon. Junior Liana Beauchamp (Genoa-Kingston HS, Kingston, Ill.) took third in the weight throw with a mark of 47' 11¾" and fifth in the shot with a heave of 35' 10¾". Bacon brought home a third-place finish with a 5:11.54 in the mile, while senior Kirstillyn Pohlman (Zion-Benton HS, Winthrop Harbor, Ill.) was eighth in 5:32.29.
Smith (:09.59) and Martines (:09.85) took fourth and seventh, respectively, in the 60 hurdles and Hoffman (4' 9") and sophomore Emily Lutton (Elkhorn HS, Omaha, Neb.) (4' 7") fourth and eighth in the high jump.
Junior Kelsey Stockert (Peoria Notre Dame HS, Mapleton, Ill.) grabbed a fourth-place finish as well, with a 10:50.28 in the 3000.
Hoffman anchored Augustana's fifth-place 4x200 relay (1:52.54) behind the freshman trio of Ashley Jensen-Anderson (Rock Island HS, Rock Island, Ill.), Rachel Akmakjian (Poudre HS, Fort Collins, Colo.) and Kayla Bushey (Luther North HS, Chicago, Ill.).
Sophomore Astin Moravek (Riverside-Brookfield HS, Riverside, Ill.) went 33' 6 ¾" for sixth in the triple jump and took seventh in the long jump with a mark of 16' 4".
Jensen-Anderson and Prazak added points for the Vikings with eighth-place finishes in the 200 and 400, respectively. Jensen-Anderson ran a :27.86 in the 200 and Prazak finished the 400 in 1:04.40.
Host Olivet Nazarene won the team title with 160.5 points. Bethel (Ind.) was second with 138.5 and the Vikings third with 119. Calvin (96), Aquinas (87), St. Ambrose (70). Greenville (17) and Benedictine (Ill.) (9) rounded out the team standings.
On Saturday, February 2, coach Fred Whiteside's Vikings will be competing at the Warhawk Invitational in Whitewater, Wisconsin. Action is scheduled to begin at noon.