January 26, 2013
Vikings pound boards and North Park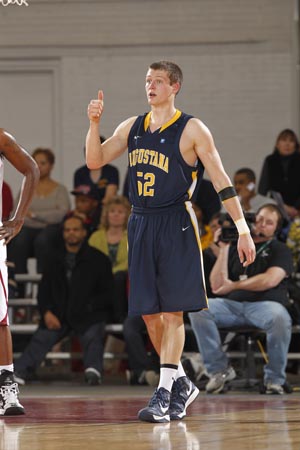 It was "thumbs up" for Brandon Kunz and the Vikings on Saturday as they pounded North Park 90-61 in College Conference of Illinois & Wisconsin action in Chicago. Kunz scored 19 points and hauled in nine rebounds as Augustana moved to 15-4 overall and 5-3 in the CCIW. The Vikings enjoyed a 52-13 advantage in rebounding in the game.
CHICAGO, Ill. - Using an 11-0 run to close out the first half gave Augustana a 44-33 lead at intermission and the Vikings went on to pick up a 90-61 victory over North Park on Saturday, January 26 in Chicago, Illinois. Augustana completely dominated the hosts inside, compiling a huge 52-13 advantage in the rebounding department.

It is hard to believe that for the first 17-plus minutes this game was in doubt. With the game tied at 33-33 following a basket by North Park's Chris Benjamin with 2:50 left in the first half, the Vikings closed with an 11-0 run to take a 44-33 advantage at the break. Augustana shot .620 (18-29) from the floor and made six of seven free throws. One statistic that jumped off the statistic page was the Vikings' 20-4 advantage in the rebounding department, including nine on the offensive end.
Brandon Kunz (Lake Zurich HS, Lake Zurich, Ill.) scored 11 points in the first 20 minutes and Danielius Jurgutis (Downers Grove South HS, Darien, Ill.) dropped in 10.
Augustana never stopped pounding the glass, with 22 of its 52 rebounds coming on the offensive end. The Vikings didn't need a whole lot of help on offense as they shot .561 (32-57) from the floor anyway. In the first half alone they hit at a .621 (18-29) clip.
From the point where the game was tied at 33, Augustana outscored North Park 57-28 to win going away. The Vikings largest lead in the contest was the final margin. North Park did have the margin in single digits early in the second half (48-40) with 17:11 remaining but the Vikings scored eight straight to make it 56-40 with 15:04 and the lead never dropped below 14 points after that.
Four Augustana players finished the game in double digits in scoring with Kunz leading the way with 19 points on seven of 11 from the field and five of six from the free throw line. He also hauled in a game high nine rebounds and added a pair of assists.
Jurgutis dropped in 17 points as he went six of 10, including three of four from three point range. Nic Hoepfner (United Township HS, East Moline, Ill.) scored 11 points with five rebounds while Tayvian Johnson (United Township HS, East Moline, Ill.) had 10 points and six rebounds. The Vikings had six players with more rebounds than Cameron Burnett and Mark Holmes, North Park's leaders in that category with two each.
Mark Roth (Washington HS, Metamora, Ill.) came off the Augustana bench to lead the team in assists with four while Jurgutis and Brandon Thompson (Galesburg HS, Galesburg, Ill.) each had three.
The Vikings are now 15-4 overall and 5-3 in the College Conference of Illinois & Wisconsin heading into a crucial home contest on Wednesday, January 30 with Illinois Wesleyan. North Park slips to 6-13 and 1-7.