January 26, 2013
Vikings can't overcome cold shooting at North Park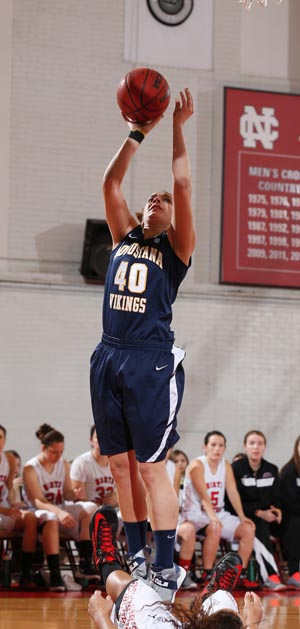 Jessica Baids led Augustana with 12 points in a 60-45 loss at North Park on Saturday, January 26 in Chicago.
CHICAGO, Ill. - The shots wouldn't fall on Saturday afternoon, January 26 in Chicago, Illinois and as a result, Augustana did - by a score of 60-45 to North Park in College Conference of Illinois & Wisconsin women's basketball action. The Vikings shot just .288 for the game, making only 15 of 52 field goals, including only one of 13 attempts from three point range.

After trailing 31-13 at halftime, when they made just six of 26 attempts from the floor, the Vikings battled back and actually outscored the host 32-29 in the second half. It proved to be too late, however, as North Park moved its record to 13-6 overall and 4-4 in the CCIW. Augustana falls to 6-12 and 2-6.
Behind by 24 points on two separate occasions (44-20 at 11:22 and 46-22 at 10:27), the Vikings put on a 20-7 run to cut the lead to 11 points (53-42) at 4:09 after Maddie Kerr (Elgin St. Edward's Catholic HS, Streamwood, Ill.) made her team's only three point basket of the game. Augustana could not get the margin into single digits, however, with turnovers on its next three possessions.
Junior Jessica Baids (West Chicago HS, Carol Stream, Ill.) was the lone Viking in double figures as she scored 12 points on five of eight from the floor and a perfect two of two from the free throw line. The second leading scorer was freshman Andrea McNally (Hinsdale South HS, Burr Ridge, Ill.) with seven points. She also had three rebounds, two assists and one steal.
Augustana managed to win the rebounding battle by a margin of 37-29 with junior Amy Hicks (Rockford Christian HS, Rockford, Ill.) pulling down six and senior Gianna Pecora (Downers Grove South HS, Darien, Ill.) and sophomore Kayla Boers (Oswego East HS, Oswego, Ill.) each grabbing five. A total of 21 turnovers did not help the Vikings' cause.
North Park received 20 points and five rebounds from Sarah Peterson, who also contributed five blocked shots and four steals to the victory. Peterson was nearly perfect in the shooting department, hitting seven of eight from the field, including four of four from three point range and she nailed both her free throws.
Augustana will head to Aurora, Illinois on Monday, January 28 for a non-conference game at 7:30 p.m. This game was originally scheduled for December 20 but was postponed due to a snowstorm. The Vikings are back in CCIW action on Wednesday, January 30 at Wheaton.