January 25, 2013
Vikings move to 13-3 with win over Wheaton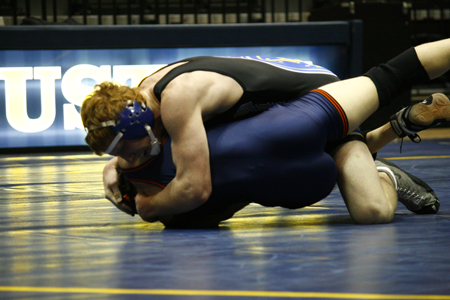 Sophomore 149-pounder Walter Piech recorded a pin over Wheaton's Gage Burt Friday night, helping 27th-ranked Augustana to a 31-13 win over Wheaton at Carver Center.
ROCK ISLAND, Ill. - Augustana won the first four weight classes and cruised to a 31-13 College Conference of Illinois & Wisconsin victory over Wheaton on Friday, January 25 in the Carver Center. The Vikings, now 13-3 on the year, are currently ranked 27th in NCAA Division III.

Freshman Jimmy Panozzo (Carl Sandburg HS, Orland Park, Ill.) got the Vikings started in the right direction with a 14-2 victory over Tom Foy at 125 pounds to run his record to 23-9. Junior Jacob Scholten (Rockford HS, Grandville, Mich.) received a forfeit at 133 to put Augustana up 10-0 and is now 28-3 on the year.
Sophomore Hector Ruiz (East Aurora HS, Aurora, Ill.) stunned David Watson at 141 pounds, recording a pin in just 17 second as he moved his record to 21-10. Sophomore Walter Piech (Lincoln-Way East HS, Mokena, Ill.) followed with a pin at the 1:33 mark of his 149 pound match with Gage Burt. Piech is now 17-10 this season.
The Vikings fell at 157 pounds when Mark Savenok scored a technical fall (20-4 @ 5:42) over Kevin Sundberg (Paw Paw HS, Paw Paw, Mich.), who fell to 25-11. Connor Cummings (Downers Grove North HS, Woodridge, Ill.) got Augustana back on track with a 12-6 win over Luke Sims at 165 pounds. Cummings is 9-11 on the year. Senior Matt Burns (Naperville Central HS, Naperville, Ill.) earned a hard-fought 2-1 win at 174 over Matt McCrary to push his record to 28-3.
At 184 pounds, two of the top wrestlers in the country at the weight squared off and Wheaton's Dan Olsen beat junior Jordan Richardson (Grandville HS, Wyoming, Mich.) 6-4 in overtime. Richardson dropped to 25-7 this season.
Wheaton's Darren Faber beat freshman Jake Melik (Pleasant Valley HS, Bettendorf, Iowa) in a 16-0 technical fall (4:28) at 197 pounds.
Sophomore John Schraidt (Riverside-Brookfield HS, Riverside, Ill.) ended the match for the Vikings with a 6-5 win over Mitch Steed at 285. Schraidt now has a 23-6 record.
Augustana will host second ranked Elmhurst at 7:30 p.m. on Tuesday, January 29.
WRESTLING RESULTS
Friday, January 25, 2013 Carver Center *** Augustana College *** Rock Island, Illinois
AUGUSTANA 31, WHEATON 13
125 - Jimmy Panozzo (A) beat Tom Foy (W) 14-2
133 - Jacob Scholten (A) won by forfeit
141 - Hector Ruiz (A) pinned David Watson (W) @ :17
149 - Walter Piech (A) pinned Gage Burt (W) @ 1:33
157 - Mark Savenok (W) won by technical fall @ 5:42 (20-4) over Kevin Sundberg (W)
165 - Connor Cummings (A) beat Luke Sims (W) 12-6
174 - Matt Burns (A) beat Matt McCrary (W) 2-1
184 - Dan Olsen (W) beat Jordan Richardson (A) 6-4 in overtime
197 - Darren Faber (W) won by technical fall @ 4:28 (16-0) over Jake Melik (A)
285 - John Schraidt (A) beat Mitch Steed (W) 6-5
RECORDS: Augustana 13-3 & Wheaton 5-7