January 24, 2013
Jordan Richardson leads the nation in pins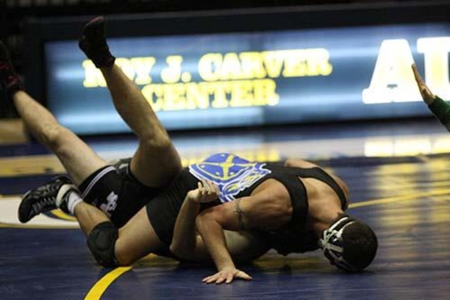 Junior 184-pounder Jordan Richardson leads all of NCAA Division III with 12 pins this season.
INDIANAPOLIS, Ind. - The NCAA has released its latest Division III leader lists for wrestling and in the falls category, three Augustana grapplers rank among the nation's top seven. Junior 184-pounder Jordan Richardson (Grandville HS, Wyoming, Mich.) leads the nation with a dozen pins, while sophomore 157-pounder Kevin Sundberg (Paw Paw HS, Paw Paw, Mich.) and senior 174-pounder Matt Burns (Naperville Central HS, Naperville, Ill.) have 10 each and rank sixth and seventh, respectively.

Richardson, a 2012 All-American who sports a 25-6 record this season, has pinned 12 opponents in a combined time of 27:49. Last year's CCIW 174-pound champion is currently ranked 16th in the nation at 184 pounds by D3wrestle.com
Sundberg is 25-10 this season. His 10 falls have taken a total time of 33:37. Burns, the 2012 CCIW champion at 165 and currently the nation's 12th-ranked 174-pounder, is 27-3 this season. He has taken 35:40 to record his 10 pins.
Coach Eric Juergens' 27th-ranked Vikings face Wheaton at Carver Center on Friday, January 25 before hosting Elmhurst, the nation's second-ranked team, on Tuesday, January 29.
NCAA DIVISION III FALLS TOP 10
| | | | | | |
| --- | --- | --- | --- | --- | --- |
| RANK | FALLS | TIME | NAME | SCHOOL | WT. CLASS |
| 1 | 12 | 27:49 | JORDAN RICHARDSON | AUGUSTANA | 184 |
| 2 | 11 | 22:15 | Jordan Koranda | Wisconsin-Stevens Point | 285 |
| 3 | 11 | 29:38 | Nick Scotto | Wesleyan (Conn.) | 141 |
| 4 | 10 | 19:40 | Cody Lovejoy | Ohio Northern | 285 |
| 5 | 10 | 24:06 | Carl Gaul | Cornell College | 285 |
| 6 | 10 | 33:37 | KEVIN SUNDBERG | AUGUSTANA | 157 |
| 7 | 10 | 35:40 | MATT BURNS | AUGUSTANA | 174 |
| 8 | 9 | 12:10 | Blake Helm | Thiel | 285 |
| 9 | 9 | 14:03 | Jefferson Ajayi | Wesleyan (Conn.) | 184 |
| 10 | 9 | 21:22 | Nick Steger | Loras | 133 |