January 23, 2013
Vikings take care of Millikin on the road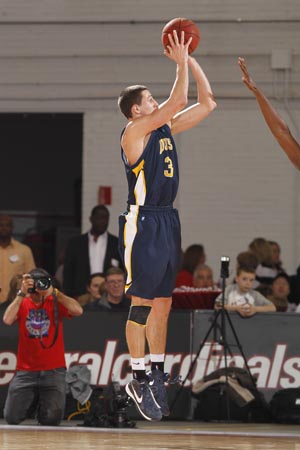 Ben Ryan led the Vikings with 16 points and 11 rebounds as Augustana beat Millikin 63-54 in Decatur, Illinois on Wednesday, January 23 to move to 14-4 overall and 4-3 in the College Conference of Illinois & Wisconsin.
DECATUR, Ill. - A decided advantage on the backboards turned out to be the difference as Augustana pulled out a key victory in College Conference of Illinois & Wisconsin action on Wednesday, January 23 in Decatur, Illinois. The Vikings beat Millikin 63-54 and had to come from behind in the second half to get the victory.

Augustana had a 41-30 advantage in rebounding with freshman Ben Ryan (Washington HS, Washington, Ill.) leading the way with 11. Ryan also led the team in scoring with 16 points on eight of 12 shooting from the floor.
The Vikings led by seven points on three separate occasions in the first half and by four (28-24) at intermission. Millikin came out of the locker-room with an 11-4 run to grab a 35-32 lead following a basket by Tommy Pilackas at the 15:12 mark.
It didn't take long for head coach Grey Giovanine's charges to reclaim the lead, however, as Ryan scored at 15:00 to cut the advantage to 35-34 and Brandon Thompson's (Galesburg HS, Galesburg, Ill.) basket at 13:06 made it 36-35 in favor of the Vikings. They would never relinquish the lead but couldn't get into double digits until the final minute of the contest. Augustana made five of six free throws in the final :38 to keep the Big Blue at bay.
Besides Ryan, the only other Viking in double digits was Nic Hoepfner (United Township HS, East Moline, Ill.) with 12 points on five of eight from the floor and two of four from the free throw line. Hoepfner also pulled down six rebounds. Brandon Kunz (Lake Zurich HS, Lake Zurich, Ill.) came off the bench to score eight points and haul in five rounds.
Thompson scored eight points and led the team in assists with four while collecting three rebounds and two steals.
Millikin got 15 points from T.J. Griffin and 13 out of Deavis Johnson.
Augustana is now 14-4 overall and 4-3 in the CCIW while Millikin falls to 7-11 and 3-4 in league play.