January 23, 2013
Vikings fall to defending NCAA champs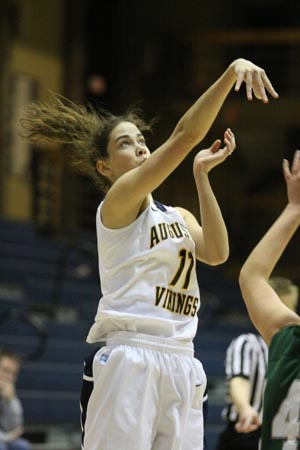 Sophomore Kayla Boers led the Vikings in rebounding with nine and scored seven points in an 82-62 loss on Wednesday night, January 23 to defending NCAA Division III national champion Illinois Wesleyan in the Carver Center.
ROCK ISLAND, Ill. - After closing a 13 point first half lead to just five at intermission, Augustana had no answer for defending NCAA Division III national champion Illinois Wesleyan in the second 20 minutes and fell 82-62 on Wednesday, January 23 in the Carver Center. The Vikings trailed 26-13 with just over six minutes (6:27) remaining in the first stanza but went on an 18-10 run to close out the half and went into the break down just 36-31.

However, the Titans opened the second half on a 23-9 run of their own and seized control by 19 points (59-40) with 10:14 left in the game. Augustana could get no closer than 17 points (59-42 with 9:46 left) for the rest of the way.
Illinois Wesleyan connected on 10 three point field goals and out rebounded the Vikings 44-37. They also forced Mark Beinborn's team in 19 turnover and the Titans shot .500 (16-32) from the floor in the second half. Katy Seibring led the visitors in scoring with 21 points while Michelle Bilek dropped in 16 and Melissa Gardner had 13.
Augustana had three players in double figures with Jessica Baids (West Chicago HS, Carol Stream, Ill.) and Gianna Pecora (Downers Grove South HS, Darien, Ill.) each scoring 12 and Molly Etheridge (Normal Community HS, Bloomington, Ill.) scoring 11. Pecora led the team in assists with five.
Kayla Boers (Oswego East HS, Oswego, Ill.) scored seven points but pulled down a team high nine rebounds and she also had an assist and two steals.
Augustana falls to 6-11 overall and 2-5 in the College Conference of Illinois & Wisconsin while Illinois Wesleyan moves to 12-6 and 5-2.