January 22, 2013
Vikings now 27th in NCAA Division III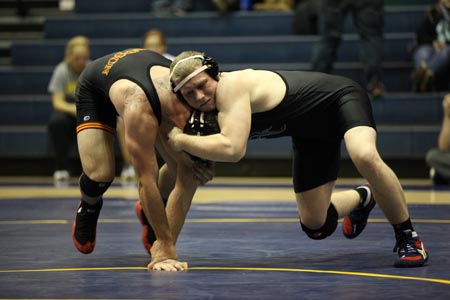 Senior Matt Burns is currently ranked 12th in NCAA Divison III at 174 pounds. Burns has compiled a record of 27-3 this season.
The Augustana wrestling team has moved to 27th in the latest NCAA Division III national wrestling rankings. Although the Vikings dropped ten spots in the National Wrestling Coaches Association poll, they have won nine of their past ten matches and are currently 12-3 overall.

A loss to Luther (12-24) on January 5 at the Knox Duals ended their span of seven victories in a row.
The Vikings quickly bounced back recording three straight wins against Chicago (25-15), Wisconsin-Platteville (39-7), and North Central (32-7). The other two losses came back early in the year to Dubuque (19-13) and Central (27-12), opponents who ranked 16th and 14th at the time.
Along with being a nationally ranked team, Augustana also features three individuals who are making national headlines as well. According to the d3wrestle.com, junior Jacob Scholten (Rockford HS, Grandville, Ill.) is ranked fifth in the individual weight class rankings at 125 pounds, and is 27-3 on the year.
Senior Matt Burns (Naperville Central HS, Naperville, Ill.) is 27-3 and is currently ranked 12th at 174 pounds, while junior Jordan Richardson (Grandville HS, Wyoming, Mich.) is ranked 16th in the 184 pound weight class with a record of 25-6.
Sixth year head coach, Eric Juergens, has lead 16 of his wrestlers to a winning record. Leading the way alongside Scholten, Burns, and Richardson is a tremendous sophomore class. Kevin Sundburg (Paw Paw HS, Paw Paw, Mich.), John Schraidt (Riverside-Brookfield HS, Riverside, Ill.), and Hector Ruiz (Aurora East HS, Aurora, Ill.) have combined for a record of 67-26, all recording at least 20 wins. Freshman Jimmy Panozzo (Carl Sandburg, Orland Park, Ill.) has also been a nice surprise for the young Augustana squad, wrestling to a record of 22-9.
Augustana will next wrestle a pair of matches against Knox and Wheaton on January 25 at home as it prepares for what will be the biggest match of the year against Elmhurst College on January 29, also at home. Elmhurst is currently ranked 2nd in the country and is 8-1, leading the College Conference of Illinois and Wisconsin.
2012-13 NCAA DIVISION III NATIONAL DUAL MEET RANKING
As compiled by the National Wrestling Coaches Association
| | | | |
| --- | --- | --- | --- |
| RANK | TEAM | DUAL RECORD | LAST RANKING |
| 1 | Wartburg | 10-0 | 1 |
| 2 | Elmhurst | 8-1 | 2 |
| 3 | Centenary | 7-2 | 5 |
| 4 | Cortland State | 11-2 | 3 |
| 5 | Wisconsin-La Crosse | 13-2 | 6 |
| 6 | Wisconsin-Stevens Point | 12-1 | 12 |
| 7 | Augsburg | 3-2 | 4 |
| 8 | Wilkes | 9-3 | 20 |
| 9 | Delaware Valley | 5-0 | 22 |
| 10 | Wesleyan | 6-5 | 30 |
| 11 | Ithaca | 5-3 | 9 |
| 12 | Coe | 9-4 | 8 |
| 13 | Wisconsin-Whitewater | 6-2 | 10 |
| 14 | York | 14-5 | 21 |
| 15 | Messiah | 9-4 | 24 |
| 16 | Olivet | 5-6 | 7 |
| 17 | Concordia (MN) | 3-4 | 11 |
| 18 | Ohio Northern | 12-2 | 19 |
| 19 | College of New Jersey | 6-5 | 23 |
| 20 | New York | 8-1 | 25 |