January 22, 2013
Miedema excited as 2013 begins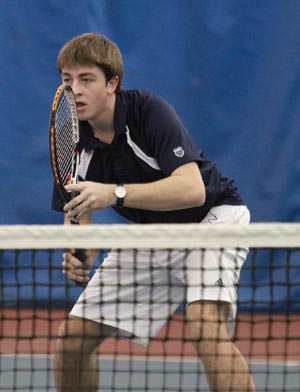 Senior Jack Cullen posted a total of 30 wins (11 singles and 19 doubles) as a junior in 2012.
With his first season as the head coach of the Augustana men's tennis team in the books, Jon Miedema is anxiously looking forward to his second season. Miedema got off to a successful start in charge of the Vikings' program, compiling a 16-11 overall dual meet record and a 2-3 mark in the College Conference of Illinois & Wisconsin.

The Vikings came within an eyelash of making it to the championship match of the CCIW tournament for the second year in a row. They dropped a 5-4 heartbreaker to Wheaton in the semi-finals of the conference tourney and then lost 6-3 to Carthage in the third-place match to close out the year.
"I am excited for the upcoming season," said Miedema who watched this past fall as his women's team posted an 8-3 overall record and a 5-1 ledger in the CCIW for second place. "Last year we had a lot of younger players who stepped up and played crucial roles in our season. Now those kids are a year older and will factor into our success even more."
Only one starter graduated from last year's team but the loss will be a big one. Adam DeSimone handled the number one singles position for three years and he graduated with 136 career victories (singles and doubles combined), second on the school's all-time list. He was a three-time team MVP and his 73 career doubles victories set a new school record.
DeSimone's shoes will need to be filled and there are several candidates for the position. Sophomore Lawrence Palmer (Schiller International School, El Prat de Llobregat) played number two last year and posted a 9-11 singles record. He would be the logical choice to move up to the number one slot. Junior Andy Wall (Notre Dame Academy, De Pere, Wis.) was 17-13 a year ago and played mostly at number three so he will move up as well.
Senior Jack Cullen (Edgewood HS, Madison, Wis.) posted an 11-14 record in 2012 while alternating between number three and number four singles. Junior Kevin Bayles (Homewood-Flossmoor HS, Flossmoor, Ill.) was 21-7 as a sophomore while seeing action at both number five and number six and junior Colin Arnold (Sterling HS, Sterling, Ill.) was 20-9 while switching back and forth between number four and number five. Arnold will miss most of the early portion of the season because he is on an internship in Australia.
Senior Will Palmer (Schiller International School, Leicester, England) is a top-notch doubles player who teamed with his brother Lawrence to go 12-10 at number two in 2012. Junior Grant Wick (Windsor HS, Fort Collins, Wis.) stepped into the starting lineup late in the year and went 10-4 while playing at number six singles.
"We are happy with our returning players," said Miedema. "They had success last year and have worked hard in the off-season to improve their respective games."
There will be some freshmen who will make an impact as well. Harald Olsson (Lidingo, Sweden) had a nice fall and he could end up high in the lineup in singles. Patrick Lenz (Villanova Prep School, Ojai, Calif.), John Alexander (Rockford Guilford HS, Loves Park, Ill.), Austin Schoeck (Rock Island Alleman HS, Rock Island, Ill.) and Ian Deggendorf (St. James Academy, Liberty, Mo.) all show promise.
"We have a lot of depth," said Miedema. "On any given day I feel that we could interchange the positions and be just fine. We are looking for consistency from our players and working on stringing back-to-back good days of practice together, which will then lead to better play in matches."
The doubles teams are not set yet and DeSimone's loss will hurt because he was 16-13 at number one while playing with Wall. The Palmer brothers (12-10) were solid at number two last year and Arnold and Cullen went 18-6 at number three.
"We need to get the doubles teams figured out early in the season," said Miedema. "Once we decide on a lineup, the consistency will fall into line. We are anticipating a good year in 2013 and we are looking forward to getting started."
Augustana has a streak of five straight winning seasons, dating back to 2008 and the Vikings are 98-54 during that time frame.
"Once again we think our schedule is tough," said Miedema. "We like to challenge the players and the team in our program to get batter and we do it by playing good teams."