January 19, 2013
Kierra Smith a double winner at Midwest Invitational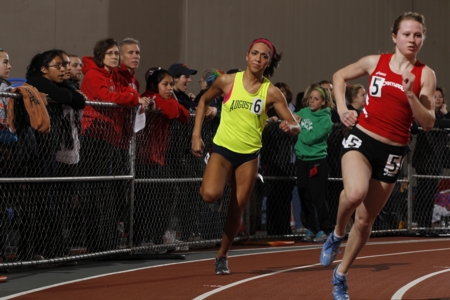 Junior Kierra Smith won the 400 and 60-meters hurdles Saturday at Monmouth College's Midwest Indoor Invitational.
MONMOUTH, Ill-Junior Kierra Smith (Creston HS, Creston, Iowa) picked up two wins Saturday at Monmouth College's Midwest Indoor Invitational. Smith won the 400 and 60-meter hurdles and Augustana added five more individual event winners on the day as well as a relay title. No team scores were compiled.

Smith ran a 1:02.54 in the 400 and a :09.45 in the hurdles. Other winners for the Vikings included freshman Annie Martines (St. Charles East HS, St. Charles, Ill.), who ran a :44.06 in the 300; Junior Kate Benge (Pleasant Valley HS, Bettendorf, Iowa), who finished the 800 in 2:23.50; Senior Sarahbeth Jones (Warren HS, Glen Allen, Va.), who won the mile in 5:12.04 and sophomore Jessica Bacon (Rock Island HS, Rock Island, Ill.), who posted a 10:48.35 to take the 3000. Sophomore Astin Moravek (Riverside-Brookfield HS, Riverside, Ill.) went 34' ¼" to win the triple jump. Benge also anchored Augustana's winning Distance Medley team, which finished in 13:03.40. Senior Jennifer Prazak (Naperville North HS, Naperville, Ill.) led off, followed by junior Lauren Hoffman, sophomore Lorraine Stamberger and Benge.
Smith, Benge and Prazak added a second-place finish with the Viking 4x400 relay. They ran the lead, second and anchor legs, respectively, with junior Johanna Schnitzler (Downers Grove South HS, Woodridge, Ill.) handling the third. That quartet finished in 4:16.23.
Jones ran a 2:24.76 in the 800 to finish second to Benge, while Bacon's 5:18.71 was second to Jones in the mile. In the 400, Kelsey Moon (Mundelein HS, Wauconda, Ill.) finished second behind Smith with a time of 1:06.94.
In the 600, freshman Anna Walsh (Mahtomedi HS, Mahtomedi, Minn.) was second in 1:48.85 while Stamberger finished fifth in 1:50.56. In the 5000, junior Kristyn Barton (York HS, Elmhurst, Ill.) was second, running a 19:35.63, senior Tara Bistry (Joliet Catholic HS, Joliet, Ill.) fourth in 20:19.96 and freshman Rachel Rodriguez (Mahomet-Seymour HS, Mahomet, Ill.) fifth in 20:42.08.
In addition to her triple jump victory, Moravek brought home a second in the long jump with a leap of 16' ¼". Freshman Kayla Bushey (Luther North HS, Chicago, Ill.) took third, going 15' 4¼" and sophomore Veronica Bertellotti (Prospect HS, Mt. Prospect, Ill.) was fifth with a mark of 14' 2¼". Sophomore Laura Polizzi and freshman Anna Urbanczyk were fourth and fifth, respectively, behind Moravek in the triple jump. Polizzi went 32' 5¾" and Urbanczyk 31' 4¾".
Senior Kirstillyn Pohlman (Zion-Benton HS, Winthrop Harbor, Ill.) and sophomore Lizzie Lundine (Willowbrook HS, Villa Park, Ill.) finished third and fourth behind Bacon in the 3000, finishing in 11:16.88 and 11:17.22, respectively. Martines, freshman Ashley Jensen-Anderson (Rock Island HS, Rock Island, Ill.) and Schnitzler finished 3-4-5 behind Smith in the 60. Martines ran a :09.95, with Jensen-Anderson finishing in :10.20 and Schnitzler in :10.47.
Junior Liana Beauchamp (Genoa-Kingston HS, Kingston, Ill.) was third in the weight throw with a heave of 47' 10½" and senior Lauren Hoffman (Wheaton North HS, Winfield, Ill.) took third in the high jump with a leap of 5' ½".
In the pole vault, freshmen Danielle Engel (St. Charles North HS, St. Charles, Ill.), Catie Nelson (Geneseo HS, Annawan, Ill.) and Emalee Leigh (United Township HS, Hampton, Ill.) all finished in the top five. Engel was fourth, clearing 8' 6 ¾", while Nelson and Leigh tied for fifth, with each going 7' 1".
The Viking 4x200 relay unit of freshman Stephanie Sorrentino (York HS, Elmhurst, Ill.), Jensen-Anderson, Bushey and Moravek took third in a time of 1:55.18.
Coach Fred Whiteside's team will next be in action at the Olivet Nazarene Invitational in Bourbonnais, Illinois on Saturday, January 26 at noon.