January 19, 2013
Vikings roll over Elmhurst 84-41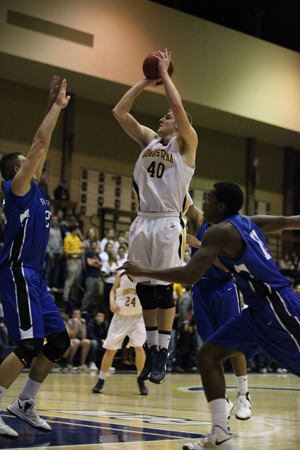 Sophomore Nic Hoepfner scored 10 points in 14 minutes of action Saturday night as Augustana defeated Elmhurst 84-41 at Carver Center.
ROCK ISLAND, Ill. - Augustana held Elmhurst to 26 percent shooting from the field Saturday night and cruised to an 84-41 win over the Bluejays at Carver Center. The Vikings snapped a three-game losing streak and improved to 13-4 on the season and 3-3 in the league. Elmhurst falls to 4-13 overall and 0-6 in the CCIW.

Senior George Dexter (Bettendorf HS, Bettendorf, Iowa) and freshman Jawan Straughter (Plainfield East HS, Bolingbrook, Ill.) got their first starting assignments of the season, but it was sophomore guard Mark Roth (Washington HS, Washington, Ill.) coming off the bench to give the Viking offense a kick start early. Roth hit a jumper in the lane and added a pair of three pointers as the hosts jumped out to a 13-4 advantage six and a half minutes in. Two free throws each by freshmen Tayvian Johnson (United Township HS, East Moline, Ill.) and Ben Ryan (Washington HS, Washington, Ill.) extended the lead to 17-4 before a Nick Sanford put-back ended the Augustana run.
Back-to-back jumpers by sophomore Nic Hoepfner (United Township HS, East Moline, Ill.) pushed the lead to its largest of the opening 20 minutes at 31-11 with 4:15 remaining. However, Elmhurst's Eric Leonard answered with seven straight points, including the Bluejays' only two three-pointers of the first stanza, to cut the deficit to 13, where it remained at the half.
Senior center Brandon Kunz (Lake Zurich HS, Lake Zurich, Ill.) had six points and three rebounds in the first 3:17 of the second half as the Vikings doubled-up on Elmhurst 42-21. A Kunz three-point play with 12 minutes left pushed the advantage over 30 and a Jake Norcia (Highland Park HS, Highland Park, Ill.) three-pointer with 24 second left bumped it past 40 for the first time at 82-41. Augustana outscored the Bluejays 51-21 in the second half.
Kunz finished with a double-double of 10 points and 13 rebounds, including nine points and seven rebounds in 10 second-half minutes. Ryan had a game-high 14 points and Hoepfner added 10 in 14 minutes off the bench. Sophomore guard Brandon Thompson (Galesburg HS, Galesburg, Ill.) scored just two points, but had game-highs of five assists and three steals. Roth had four assists to go along with his eight points. Freshman Griffin Pils (Libertyville HS, Libertyville, Ill.) had eight points as well.
Augustana shot .459 (28-61) from the floor, .389 (7-18) from three-point range and .875 (21-24) from the free throw line. The Vikings held the visitors to 13 of 50 (.260) from the field and two of 17 (.118) from three point range, won the battle of the boards 42-36 and turned it over just nine times to 20 for the Bluejays.
Next up for Augustana is a trip to Decatur, Illinois on Wednesday, January 23 to face Millikin. Tipoff against the Big Blue is scheduled for 7:30 p.m.