January 19, 2013
Late run by Elmhurst sinks Vikings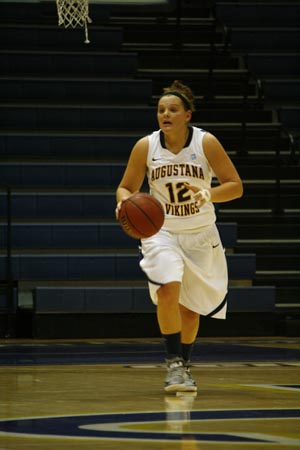 Molly Etheridge scored 15 points and grabbed eight rebounds but it was not enough as Augustana fell 69-61 to Elmhurst on Saturday, January 19 in College Confererence of Illinois & Wisconsin action.
ROCK ISLAND, Ill. - Despite leading by five points at halftime, Augustana fell at home to Elmhurst on Saturday, January 19 in College Conference of Illinois & Wisconsin action. The Vikings led 34-29 at the break but were outscored 40-27 in the final 20 minutes.

With 5:30 left in the game junior Molly Etheridge (Normal Community HS, Bloomington, Ill.) nailed a pair of free throws to give Augustana a 58-57 lead. The Vikings would score just three more points the rest of the way as Elmhurst closed out the game on a 12-3 run.
Senior Gianna Pecora (Downers Grove South HS, Darien, Ill.) led Augustana in scoring with 16 points and she had two assists, two steals and a pair of rebounds. Etheridge dropped in 15 points with eight rebounds, an assist and a steal. Those were the only two Augustana players in double figures on the night although junior Jessica Baids (West Chicago HS, Carol Stream, Ill.) had nine points, two assists and a steal.
Elmhurst got 24 points from Tess Godhardt and 12 out of Karen Senette but the key player for the Bluejays may have been Fiona McMahon. McMahon scored just six points on two of 12 from the floor and two of two from the free throw line but she cleaned up on the backboards, grabbing a game high 21 rebounds, including seven on the offensive end. She also added three assists, a blocked shot and a steal. Elmhurst enjoyed a 47-38 margin in rebounding thanks in great part to her effort.
The Bluejays also hit eight of 17 three point field goal attempt.
After shooting .438 (14-32) from the floor in the first half, Augustana shot just .273 (9-33) in the second stanza to finish the game at .354 (23-65).
Elmhurst is now 9-8 overall and 3-3 in the CCIW while the Vikings are now 6-10 and 2-4.