January 18, 2013
Myers takes second in one meter diving at Grinnell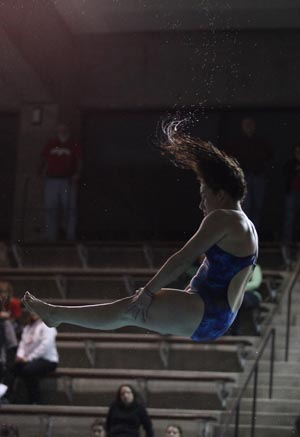 Junior Helen Myers placed second in the one meter diving event at the Grinnell Invitational on Friday, January 18 with a score of 378.85 points.
GRINNELL, Iowa - Junior Helen Myers (Pecatonica HS, Rock City, Ill.) scored 378.85 points to finish second in the one meter diving event to lead Augustana in the first day of competition at the Grinnell Invitational in Grinnell, Iowa on Friday, January 18. She was the highest place-winner for the Vikings, who scored 195 points and sit in seventh place in the 11-team event.

Freshman Adelia Clark (Linn Mar HS, Marion, Iowa) took sixth in the one meter diving with 334.35 points.
Nebraska-Omaha leads the team standings with 550 points with Gustavus Adolphus in second with 518. Luther is third with 345 and host Grinnell is fourth with 303. Macalester (235), St. Catherine's (199), Augustana (195), Nebraska-Kearney (146), Coe (96), Simpson (52) and St. Mary's (22) complete the field.
The 800 freestyle relay team of freshman Emma Novak (Eden Prairie HS, Eden Prairie, Minn.), senior Alexandria Piper (Coal City HS, Coal City, Ill.), junior Hillary Ferguson (Waubonsie Valley HS, Naperville, Ill.) and senior Molly Clennon (Benet Academy, Naperville, Ill.) placed sixth with a time of 8:31.07.
The 200 freestyle relay squad of Piper, Clennon, Novak and Ferguson placed seventh in 1:44.02.